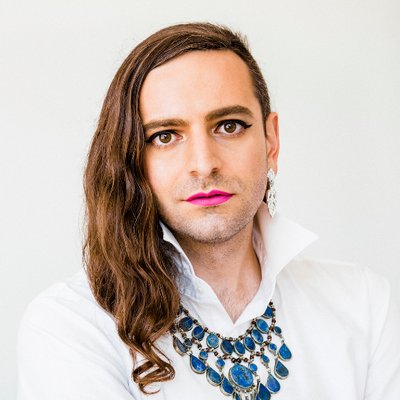 (Photo: Jacob Tobia)
The City of West Hollywood celebrates the literary community with its WeHo Reads program, a literary series featuring noteworthy authors at the West Hollywood Library.
For its upcoming WeHo Reads author series, the City of West Hollywood will present gender nonconforming writer, producer, and performer Jacob Tobia in conversation with Jesse Tyler Ferguson, star of ABC Television's Modern Family about Tobia's new book, Sissy: A Coming-of-Gender Story. The event is presented by the City of West Hollywood's Arts Division and Book Soup and co-sponsored the ONE Archives Foundation.
The event will take place on Wednesday, March 13, 2019 at 7 p.m. at the City of West Hollywood's Council Chambers/Public Meeting Room at the West Hollywood Library, located at 625 N. San Vicente Boulevard. 
The evening will include a book signing, with books for sale by Book Soup. Free parking in the adjacent five-story parking structure with validation at the event. Tickets are $26 plus tax (includes one copy of the book) and are available at Book Soup or online at https://www.eventbrite.com/e/an-evening-with-jacob-tobia-and-jesse-tyler-ferguson-tickets-55002629345.
20 free tickets (which do not include a copy of the book) will be provided to West Hollywood residents providing proof of residency via a government ID, lease, or utility bill. Confirm your address is in the City of West Hollywood by visiting www.weho.org/streets.  Limit of two resident tickets per person, tickets may not be resold, and free resident tickets do not include a copy of the book. Tickets can be reserved in advance on a first-come first-served basis by emailing Mike Che at mche@weho.org. The physical tickets must be picked up by 6:15 p.m. on the night of the event, or they will be released to those on standby. 
From Tobia's Methodist childhood and the hallowed halls of Duke University to the portrait-laden parlors of The White House, Sissy takes readers on a gender odyssey they won't soon forget. Writing with the fierce honesty, wildly irreverent humor, and the wrenching vulnerability that have made them a media sensation, Jacob shatters the long-held notion that people are easily sortable into "men" and "women." Sissy guarantees that you'll never think about gender — both other people's and your own — the same way again.