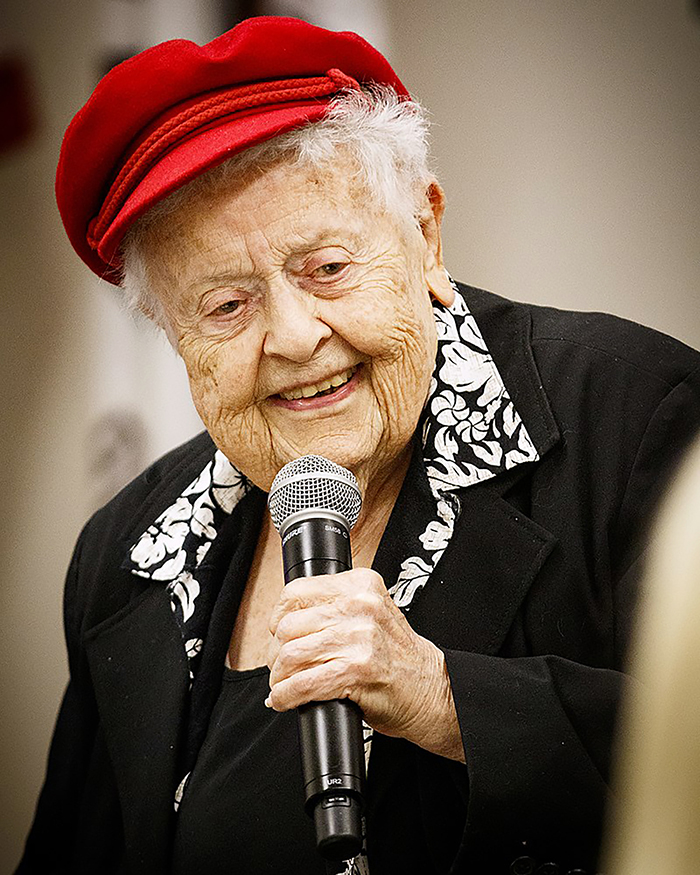 LOS ANGELES
LGBT Activist Ivy Bottini Dies At 94
Legendary LGBT Activist Ivy Bottini passed away on last month at her home in Florida surrounded by her daughters. 
Bottini was a woman who was at the forefront of the National Organization for Women (NOW) movement and the second wave of feminism. She helped found the New York City chapter of the NOW and in 1969 designed the NOW logo that is still used today. She moved to LA County in 1971 and became an activist for many LGBT causes, co-founding the Coalition for Human Rights, the Los Angeles Lesbian/Gay Police Advisory Board, AIDS Network LA, and AIDS Project LA.
ORANGE COUNTY
Radiant Health Centers Hosts Food Drive
Radiant Health Centers helped raise over $182,000 to support their LGBT causes via their Back to the Future Gala in January. As a follow-up to their Gala and in honor of the #BlazeitForward movement to make the world a better place with one intentional kind act at a time, Radiant Health Centers will host a Food Drive starting Monday, March 1st through Wednesday, March 31. To contribute, visit their amazon wish list at: amzn.to/3azuowE. 
Donations can be made at: give.classy.org/Food-drive
WEST HOLLYWOOD
City Explores Installation Of Memorial For Lives Lost To Suicide
The West Hollywood City Council is directing City staff to follow the City's Memorials, Tribute Trees and Plaques Policy Guideline to review the request to install a memorial for the lives lost to suicide in the LGBTQ+ community at a park space in West Hollywood. The memorial can include a plaque, bench, or other marker to signify the space. Council also directs staff to gather feedback from the Public Facilities Commission, Lesbian and Gay Advisory Board, and the Transgender Advisory Board on an appropriate design and location for the memorial. The location should be a quiet, meditative location that allows for contemplation and reflection, such as Laurel Park or Kings Road Park.
SAN DIEGO
SD LGBT Center Partnering With City To Help Homeless Youth
San Diego Mayor Todd Gloria announced new partnerships between the city and three nonprofit organizations to bolster programs helping young people who are experiencing or at risk of homelessness. The three organizations the city is partnering with are Urban Street Angels, San Diego Youth Services and San Diego LGBT Community Center. The new shelter and outreach opportunities will specifically target people between the ages of 18 and 24 who are experiencing homelessness or transitioning from state custody or foster care. That group makes up 10% of San Diego's unsheltered homeless population, according to the San Diego Regional Task Force on the Homeless' 2020 Point-in- Time Count.
PALM SPRINGS
Fundraiser Supporting PS Gay Men's Chorus
In a strategic partnership to build opportunities to support the Palm Springs Gay Men's Chorus (PSGMC), Bouschet  Fine Wine Liquor Store hosted a fundraising wine tasting event last month. It was a combination virtual and in-person experience that built on the success of 22 seasons, PSGMC has skillfully transitioned into a virtual chorus with initiatives that have driven community outreach to nonprofits over the last few months. Programs included providing 1,000 PPE masks made for Eisenhower Health and school supplies collection for Coachella Valley Elementary, raising more than $2,500 for the Desert AIDS Walk supporting DAP Health, holding a clothing and toiletries drive for Well in the Desert to support the homeless and, through the "Chorus Cares" program, a food and essential supplies campaign and a holiday toy drive both for Martha's Village & Kitchen.