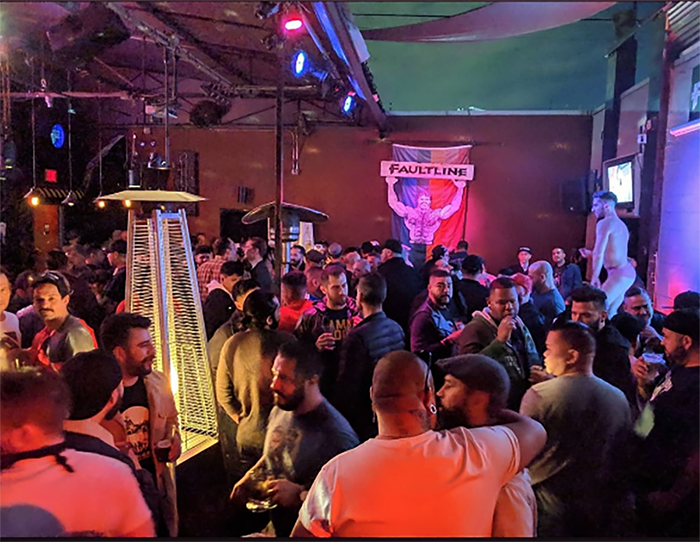 LOS ANGELES 
FAULTLINE BAR CLOSES AT ITS FOUNDING LOCATION, SEEKS NEW HOME
The Fautline Bar has closed at its founding location at 4216 Melrose Avenue. In an interview with Qvoice News, the bar's co-owner Ruby De Fresno confirmed the bar has moved out of its home on Melrose Ave after 26 years. De Fresno says she is negotiating a new lease, possibly in Silver Lake. "It was a difficult decision," she told Q Voice. "It was a decision to keep the business alive. Rent had something to do with it. We were hoping to stay, but it didn't work out."
EL MONTE 
FBI INVESTIGATING BOMBING OF ANTI-LGBT CHURCH
The FBI and local authorities are investigating a bombing at a church, known for its controversial pastor with anti- LGBT views. The First Works Baptist Church in El Monte, California, just east of downtown Los Angeles, was shaken by a blast in the early morning hours Saturday, January 23, 2021. First responders found smoke coming out of the windows and the outside of the church was covered with graffiti. An "improvised explosive device" was found to be the source of the attack, said Chief David Reynoso of the Police Department in El Monte. No one was in the church at the time, and no injuries were reported. The investigation is ongoing. 
SAN DIEGO
BLM SIGNS VANDALIZED AT GAY BAR AND CHRISTIAN CHURCH
IN HILLCREST AREA
Black Lives Matter signs were vandalized at both a Christian church and a gay bar in the Hillcrest neighborhood of San Diego. The large signs supporting the global movement to end systemic racism hung above the entrance to the University Christian Church on Cleveland Avenue and above Rich's were both splattered with pink paint over in late January. "This is more than vandalism. This is hate," Mayor Todd Gloria said via Twitter, referencing photos of the paint-splattered banners. SDPD is investigating the acts but has not yet said if the incident is being investigated as a hate crime. It was not yet clear if there were any suspects.
ORANGE COUNTY
RAINBOW FLAG AT COSTA MESA FAIRGROUNDS SPARKS CONTROVERSY
A rainbow flag at Costa Mesa fairgrounds sparked a debate on whether or not to fly the rainbow colors symbolizing LGBTQ pride. The Orange County Fair & Event Center committee addressed the community relations issues, including diversity, a controversy officials insist is a nonissue. Multiple rainbow banners, a symbol of welcoming for LGBTQ individuals, have flown over the 130-acre complex since 2019. Recently, a small group of residents has been requesting their removal, claiming they are noninclusive and cater to special interests. "The pride flag is flying at the O.C. fairgrounds, so nothing has changed," said O.C. Fair & Event Center board member Nick Kovacevich, who serves on the newly formed Community Affairs Committee. 
WEST HOLLYWOOD
THE STANDARD HOTEL CLOSES AFTER 22 YEARS
After over two decades, The Standard Hollywood Hotel, located at 8300 Sunset Boulevard, bids a fond farewell. "It is with a heavy heart that we must announce the closure of The Standard Hollywood, which will shut its doors indefinitely on Friday, January 22nd," reads a statement on the hotel's website and Instagram account. "Despite 22 years of unconditional love for our hotel, our guests, our team and our community, the hotel was unable to prevent a significant increase to its lease, which makes operating the property impossible." The quirky Standard Hollywood Hotel, known for hosting numerous LGBT fundraisers and pool parties, opened on West Hollywood's Sunset Strip in 1999.