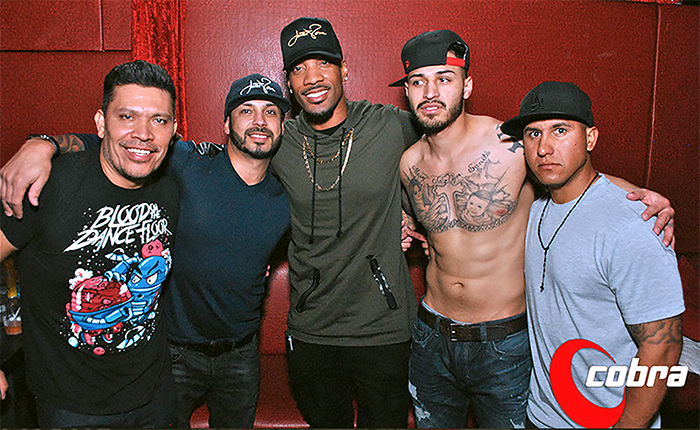 NORTH HOLLYWOOD
GAY LATINO BAR CLUB COBRA WILL NOT REOPEN
Club Cobra—the North Hollywood gay Latino bar—will not reopen after COVID-19, reports Phillip Zonkel at qvoicenews.com.
The property owner is selling the building, according to a post on Club Cobra's Instagram last month.
Julio Licon, who owns Club Cobra with his business partner Marty Sokol, also shared a message on his Instagram page.
"It breaks my heart to have to make this announcement. @ClubCobra will not reopen," Licon said. "Unfortunately, we were not able to come back from the COVID-19 shut down."
LOS ANGELES
CENTER MOURNS DEATH OF PLAYWRIGHT AND AIDS ACTIVIST LARRY KRAMER
In response to last month's passing of Larry Kramer, the playwright who wrote the Tony Award-winning play A Normal Heart, among others, and gave a voice to AIDS activism, the Los Angeles LGBT Center issued the following statement:
"It is impossible to overstate what Larry Kramer has meant in the battle against HIV and AIDS. His presence as a voice of conscience—and often, righteous anger—looms above all others. This dogged, relentless commitment was born out of a love for his community and an absolute conviction that if our leaders did not—would not—recognize our humanity, then we would demand it and fight for it ourselves. This fierce passion and moral courage set a high bar—not just in the fight against HIV and AIDS, but also in the evolving struggle for LGBT rights. This is a gift—and a shared responsibility—that his life has imparted to all queer people as we continue to fight for the dignity, justice, and equality we deserve."
LONG BEACH
CONGRESSMAN ATTEMPTS TO SECURE GOLD MEDAL FOR BILLIE JEAN KING
Congressman Alan Lowenthal (CA-47) joined 17 House colleagues to introduce the Billie Jean King Gold Medal Act to award King the Congressional Gold Medal in recognition of her extensive accomplishments and contributions to athletics, women's equality, the LGBT community, and American culture. King who is a native of Long Beach, CA, King won 39 major singles, doubles, and mixed-doubles tennis championships during her more than 30-year tennis career, including a record 20 at Wimbledon. The Billie Jean King Tennis Center in Long Beach is named in her honor. Last year, the new main library in downtown Long Beach was also named in honor of King.
SAN FRANCISCO
THOUSANDS JOIN DIGITAL FUNERAL FOR THE STUD
Last month, on May 31, a digital funeral was held to mark the closing of the Stud, San Francisco's oldest gay bar, reports Ryan Kost with the SF Chronicle.
The collective that has owned and operated the Stud since 2016 announced they'd be permanently closing the bar's longtime home explaining that the global pandemic—accruing $13,000 in debt every month for rent—made operation untenable.
The owners say they're committed to looking for a new home for the Stud, which has already moved once before.
WEST HOLLYWOOD
"ONE CITY ONE PRIDE" LGBTQ ARTS FESTIVAL
Each year, the City of West Hollywood celebrates the artistic contributions of the LGBTQ community with its vibrant One City One Pride LGBTQ Arts Festival.
The festival runs for 40 days through Tuesday, June 30, 2020, which marks the end of Pride month.
Due to the coronavirus crisis, all festival events have moved to an online virtual platform.
---
A complete list of this year's One City One Pride festival events is available at www.weho.org/pride.