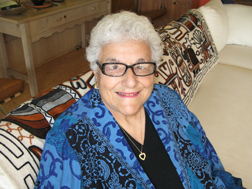 (Photo: Virginia Uribe, Ph.D.)
In response to the passing of Virginia (Gina) Uribe, Ph.D., who died on Saturday, Los Angeles LGBT Center CEO Lorri L. Jean issued the following statement:
"The entire Center community mourns the loss of Dr. Gina Uribe. As an educator, advocate, and activist, she devoted her life to helping nurture and protect LGBTQ youth. Believing every young person has the right to self-respect and dignity, Gina led the fight against anti-LGBTQ discrimination in our public schools for over half a century. 

"Project 10, which she founded in 1984, was the nation's first program to address anti-LGBTQ harassment in public schools and became a model for school districts throughout the country and around the world. As part of Project 10, she was instrumental in the development and growth of Models of Pride, now the world's largest free conference for LGBTQ youth and allies presented by the Center.

"A true hero of the LGBTQ community, Gina's legacy of fighting discrimination and her devotion to creating a world that embraces diversity and celebrates all of our children will surely live on in the countless lives she helped change for the better."