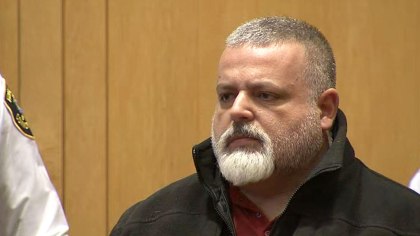 Carlos Vieira appeared in court Tuesday (WBZ-TV)
A police officer has been accused of raping a 13-year-old boy he met on Grindr, in Massachusetts, reports PinkNews.
Carlos Vieira, 49, was charged with two counts of aggravated rape of a child and two counts of indecent assault and battery on a child under 14 at Lawrence District Court on Tuesday (February 26), according to CBS Boston.
Vieira and the boy allegedly started talking on Grindr in summer 2018 before meeting in the local Mount Vernon Park and engaging in sexual acts.
The boy reportedly kept quiet until he and his family were evacuated after the Merrimack Valley gas explosions in September, when a fault in natural gas lines caused more than 80 fires in Massachusetts towns, including Lawrence, reports PinkNews.
He allegedly recognised Vieira while the officer was directing traffic, according to Boston 25 News.
READ MORE HERE:
https://www.pinknews.co.uk/2019/02/27/massachusetts-police-officer-raped-13-year-old-boy-grindr/?utm_source=feedburner&utm_medium=feed&utm_campaign=Feed%3A+Pinknews+%28Pink+News%29