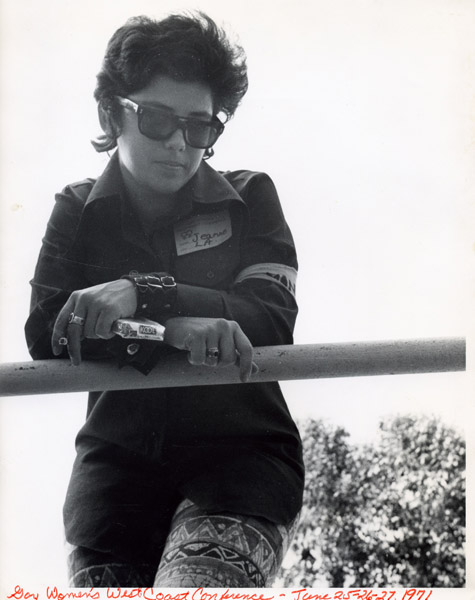 WEST HOLLYWOOD, June 27, 2017 – The City of West Hollywood will host the world premiere of Jeanne Córdova: Butches, Lies, and Feminism, a new documentary about the life and accomplishments of activist and author Jeanne Córdova, directed by Gregorio Davila, who also directed L.A. A Queer History.
The film's premiere, which is presented as part of the City of West Hollywood's One City One Pride LGBTQ Arts Festival, will take place on Thursday, June 29, 2017 at 7:30 p.m. at the City of West Hollywood's Council Chambers/Public Meeting Room, located at 625 N. San Vicente Boulevard. The screening will be followed by a Q & A with Davila and Cordova's partner, Lynn Harris Ballen, who is a senior producer and co-host ofFeminist Magazine, and whose career in media and communications has included working for Los Angeles Magazine and the Natural History Museum of Los Angeles County.
Córdova was a renowned activist, lesbian feminist, and author. She co-founded the Community Yellow Pages, a directory of lesbian- and gay-owned businesses in Southern California. She gained prominence as an activist in the 1970s, when served as president of the Los Angeles Chapter of the Daughters of Bilitis, a lesbian rights organization; founded the nationally distributed Lesbian Tide news magazine; and wrote and edited for the Los Angeles Free Press. Later, she was the president of the Stonewall Democratic Club, and a board member of the ONE National Gay & Lesbian Archives, where she co-founded the ONE Archives Lesbian Legacy Collection. She was a political activist who worked on several campaigns and helped to defeat a number of anti-gay propositions. Córdova organized and chaired the Butch Voices Los Angeles 2010 Conference, which was held in West Hollywood. She was the author of three books, including the memoir, When We Were Outlaws. Her writings were featured in many anthologies, as well. Córdova was diagnosed with cancer in 2008 and she died on January 10, 2016.
Admission to the event is free. RSVPs are requested at http://bit.ly/JeanneOCOP2017. Free validated parking will be available in the adjacent five-story structure.
            For additional information about One City One Pride, please visit www.weho.org/pride.