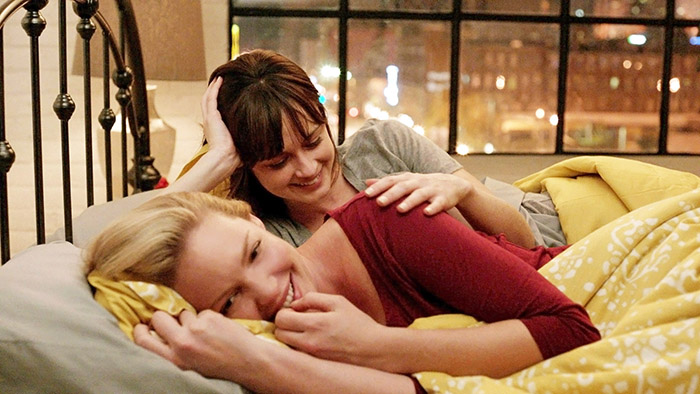 "JENNY'S WEDDING"
World premieres, parties and more at the Outfest Los Angeles LGBT Film Festival, July 9-19.
BY ORLY LYONNE
Six feature films are set to make their world premieres at this year's Outfest Los Angeles LGBT Film Festival, which takes place this month July 9 to 19 at various venues throughout Los Angeles.
The festival will also include sneak peeks at fall TV shows, an evening with musician and actor Nick Jonas and a 20th anniversary screening of "Velvet Goldmine."
The world premieres are Mary Agnes Donoghue's "Jenny's Wedding;" Philipp Karner's "Like You Mean It;" Kristin Hanggi's "Naomi and Ely's No Kiss List;" Jorge Torres-Torres' "Sisters of the Plague;" Pablo Garcia Perez's "Tchinda;" and Benjamin R. Davis, Dylan Hansen-Fliedner, Dane Mainella and Jay Jadick's "Driving Not Knowing."
This year Outfest includes 166 feature films, 28 of which are from first-time filmmakers. Others are from Outfest alumni, such as Jeffrey Schwarz ("Tab Hunter Confidential"), Jamie Babbit ("Addicted To Fresno"), Sebastian Silva ("Nasty Baby"), Malcolm Ingram ("Out to Win"), Jenni Olson ("The Royal Road") and Parvez Sharma ("A Sinner in Mecca").
The festival will open with "Tig"—a documentary about comedian Tig Notaro, who famously turned her cancer diagnosis into a stand-up set—and close with "The New Girlfriend," Francois Ozon's gender-bending melodrama.
Don't like leaving home? Starting July 9, DIRECTV will present Outfest Online, providing nationwide access to official selections from the festival,
Featuring a special collection of LGBT shorts, documentaries and feature length films from Outfest past and present, Outfest Online will be available for streaming on computers, phones and tablets to coincide with the start of the 2015 festival. Users can download the app or visit www.outfestonline.com.
---
The complete lineup of films, parties and events is available on the Outfest website at outfest.org.