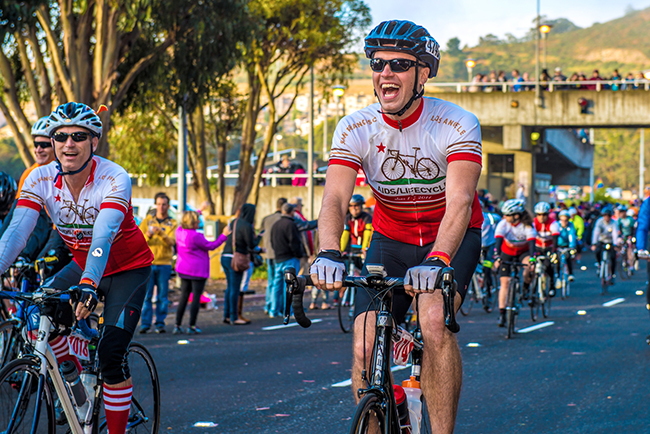 Registration closes months early for world's largest annual AIDS fundraiser.
BY VICTOR MELAMED
AIDS/LifeCycle® has closed registration for its San Francisco to Los Angeles bike ride—the world's largest annual, single-event HIV/AIDS fundraiser—earlier than ever before and for only the third time in the 14-year history of the event.
The more than 2,500 cyclists who are expected to participate, and who represent nearly every state and 20 countries, are on-track to break last year's fundraising record of $15.5 million. AIDS/LifeCycle, which begins on May 31 and ends on June 6, supports San Francisco AIDS Foundation and the HIV/AIDS-related services of the Los Angeles LGBT Center.
"I'm overwhelmed and enormously grateful to the huge number of people-from throughout the country and all over the world–who are joining us on this year's AIDS/LifeCycle," said Center CEO Lorri L. Jean. "By filling every available seat and reaching capacity, we'll be able to do even more for people living with HIV and to fight new infections."
Despite the remarkable progress that has been made since the first reported cases of HIV in 1981, the epidemic is far from over. Just in the U.S. there are 1.1 million people living with HIV/AIDS and the infection rate continues to rise among gay and bisexual men, particularly among communities of color.
AIDS/LifeCycle depends heavily on over 600 "roadies" who volunteer to support the event in a variety of essential roles including staffing rest stops, ensuring rider safety, providing medical support, and marking the route for cyclists. This is the earliest registration has ever closed for roadies.
Though it's too late to ride and volunteer on this year's event, registration remains open for "virtual cyclists" who support the two beneficiaries just like actual participants but without having to train. n
Visit aidslifecycle.org/register to join as a virtual cyclist.