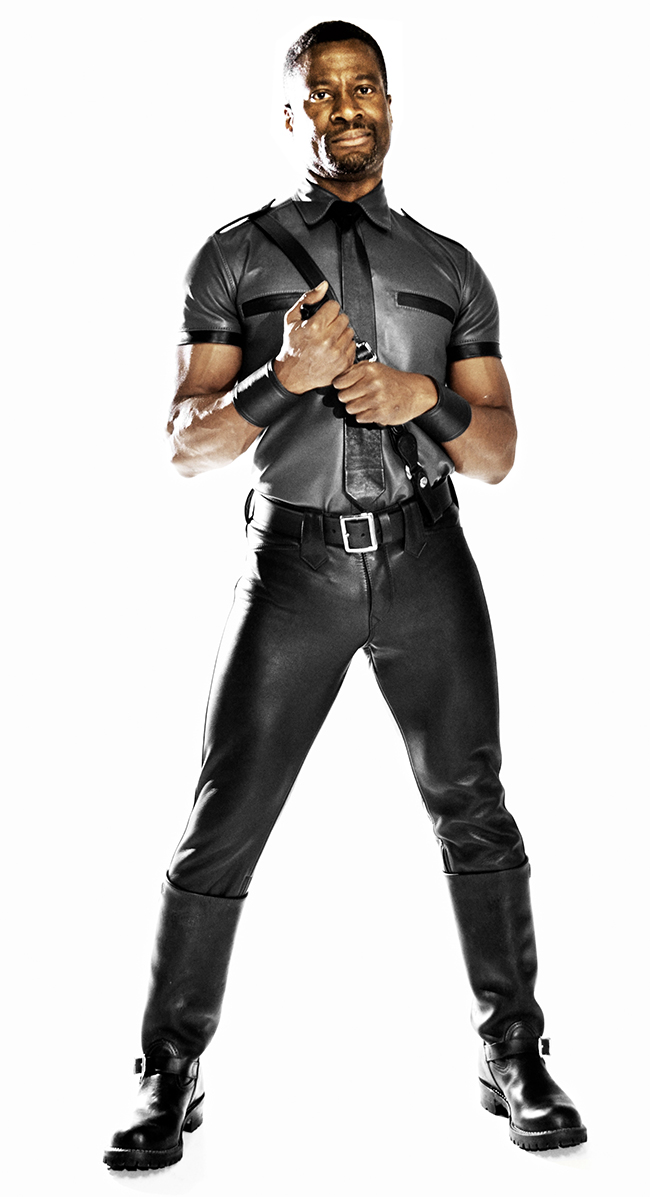 How African-American organizations
and leathermen are shaking up
the leather community's status quo.
BY ROB SMITH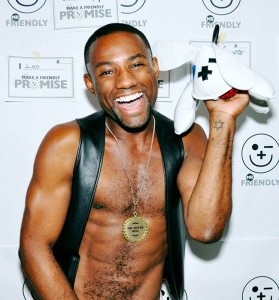 Until recently the only thing associated with black and the leather community was the color of the material, but a few groups and some new African-American pioneers are doing what they can to change that.
If you're an outsider to the leather scene and stumble upon the websites or marketing materials for leather events or organizations, you'll most likely be presented with a fairly homogenous idea of the typical leatherman: beefy, older, bearded, and white, not that there's anything wrong with that.
The leather community, however, definitely seems to be making moves towards embracing diversity, even within the group vying for the title.
After being selected as Mr. Sister Leather 2014, black leatherman Jordan Frink was one of ten finalists for Mr. LA Leather, and his experience has been a transformative one. Though he's found it somewhat difficult to navigate the scene as a black man, he constantly thinks of new ways to bridge the divide that he sometimes sees between whites and people of color in the leather scene.
"Minorities on any level— racially or sexually—should stick together," states Frink in an interview with THE FIGHT. "History shows when we work together efficiently we benefit from results."
SOMETHING MAGICAL
Alongside Frink, there are more than a few black and brown faces that mix and mingle with the majority white ones during the various events, and his presence is undoubtedly charting a path for the next generation.
The biggest moment, however, for African-Americans in the leather community in quite some time was Ramien Pierre's selection as Mr. International Leather in 2014.
Though black leathermen claimed the title at least twice in the 1980s, 90s and early 2000s winners fit a more traditional mode. Pierre's win was a deserved and welcome shock to the system, but he's taking it all in stride. He's fairly new to the leather community, and his introduction to it just happened to coincide with a major moment in American history. His first leather event was Mid-Atlantic Leather weekend in 2009 during the same weekend of President Obama's inauguration.
"There was something magical about being in our nation's capitol at a time when there was so much positive energy focused on being black and being leather," said Pierre in an interview with THE FIGHT. "It was unbelievably affirming."
As both Mr. International Leather 2014 and Mr. DC Eagle 2014, Pierre holds two sought after titles in the leather community, but he is still well aware that blacks have a long way to go towards full acceptance in the leather community and beyond.
"As a black, gay leatherman I am a member of a subculture within a subculture," he says. He's been mistaken for other prominent black leathermen more than once, and is well aware of how issues of race and privilege impact the scene.
ONYX MEN
For Pierre and many black leathermen like him, ONYX is a safe space for men of color in the scene.
ONYX Men (www.onyxmen.com) is an organization founded in 1995 to "provide education, fraternization, and serve as a bridge for men of color to the greater leather community."
There are chapters in LA, San Francisco, Atlanta, Chicago, Washington, D.C. and New York. While black and brown faces dot the crowd at mainstream leather events, at ONYX, they're definitely the main attraction. They have ongoing events on both coasts, and as they approach their 20-year anniversary in 2015, they seem to be creating a path for diversity in the mainstream leather community. It's a path that Pierre is grateful for and proud to march down.
"My ONYX brothers are also my home base, comfort, and reality check. I wouldn't be able to engage with the larger LGTB or leather/kink communities without having that support."
SOME HICCUPS
However, the integration of blacks and other people of color into the mainstream leather community hasn't been without its hiccups. Popular leather-themed circuit event The Black Party was criticized by some for its 2012 poster that featured a submissive-looking Asian man bound and whipped.
Also—unsubstantiated gossip regarding the leather festivities on the west coast claims that some black men were discouraged from running for fear that they wouldn't "represent" the leather community in a positive way.
Even as a Mr. International Leather titleholder, Pierre has encountered some racial tension in his dealings within the community. He refers to multiple incidents of being told that he "speaks well," a backhanded compliment that a great deal of African-Americans are all too familiar with and one that made him feel "small in an unpleasant and disempowering way."
Still, he is proud of the community, his place in it, and the message that his selection sends as another season of leather community events beckon.
To him, selecting a person of color as an IML winner sends the message that hotness comes in a range of sizes and hues, just don't ask him if he represents all leather people. "I represent nearly 100% of all American, gay, black, male, introvert, Quaker-educated, Ivy-League, leather titleholders," he says. "But for obvious reasons that's a pretty small group."
For more info on ONYX Men visit: www.onyxmen.com.