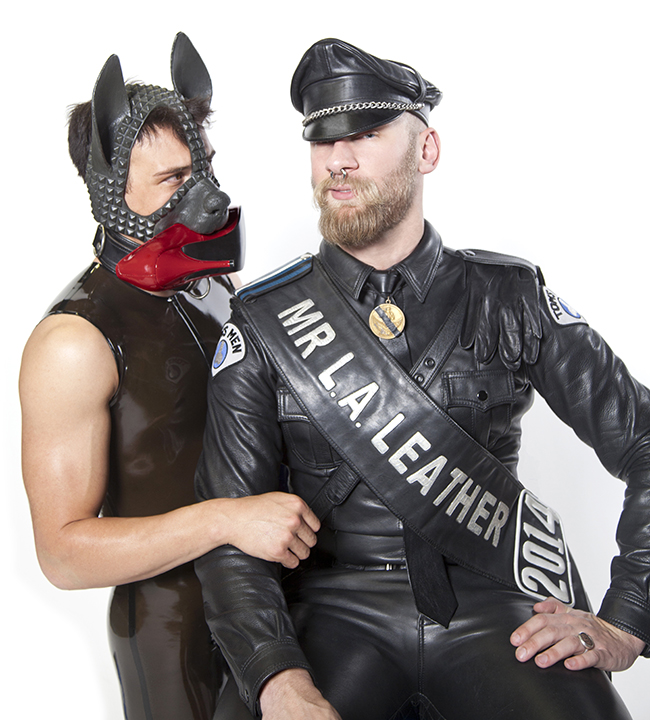 Eric Paul Leue, Mr. Los Angeles Leather 2014, on his title year, brotherhood and why leather is more than just "leather."
BY GUY BALDWIN, M.S.  |  PHOTO BY DUSTI CUNNINGHAM
As a general rule, I prefer to conduct interviews in a quiet, civilized setting, with a cup of tea and an audio recording device. But with Eric Leue, that was simply not possible, because the guy is more or less constantly in motion.  What's below has been assembled from phone calls, text messages and emails.
Without doubt, he represents the vibrancy of the Los Angles leather communities more globally and broadly than any of his many predecessors.
Since winning his title, Mr. Los Angeles Leather, a year ago, he has flown just over 63,500 miles to represent that title in 34 cities in the U.S. and Canada, and seven cities in Europe. These visits included being on PrEP panels, and meetings with health departments, advocacy groups and journalists.
Oh….and he has judged some 33 title contests, and helped to raise a ton of money.
And no, he is not a flight attendant or pilot.
So what does this man have to say?
Please give us a short, compact paragraph with some biographical info about you.
I was born in the countryside of East Berlin in 1986, so I'm German by birth. I threw myself into the deep end of the Berlin leather scene with its infamous darkrooms as soon as I turned 18. I was an exchange student in Grand Rapids, MI in 2004, then I moved to London in 2008.
Los Angeles stole my heart when I came here the first time in 2010 for a date with a guy who has since become my best friend.
The city has such a vibrant, sex-positive kink-culture, that I just had to move here. I've been a permanent U.S. resident since 2013.
I'm sure that last year, one of the Mr. L.A. Leather judges asked you why you wanted the title. What was your answer?
Everyone who hears "Los Angeles" but isn't familiar with all of its 5,000 square miles thinks only of Beverly Hills and Hollywood. I love L.A., and I have fought for years to be able to live here, so I wanted to use the title to let outsiders see Los Angeles, its kinksters, and its thriving LGBTQ community through my eyes.
Has your year as Mr. L.A. Leather turned out as you thought it would?
I had no concrete idea of what I wanted my year to look like at first. When I entered and won the contest for Eagle L.A. Mr. Leather (which qualified me to enter the Mr. L.A. Leather competition), I didn't even know much about leather titles.
I just thought of it as a fun evening, a little bit sexy, a few giggles, and beers with my friends. Then I realized how many fundraisers we hold in our leather bars, and wondered why I never see fundraising in the bars in my home-neighborhood of West Hollywood.
I always questioned why it is the leather community that always fundraises itself to the last drop as if we need to prove something. So I decided to do it differently, not better, just different. I helped raise $125K for HIV/AIDS, youth organizations, and PrEP education outside of the bars in just two events.
Without ever expecting to, I spent north of $25K of my own money to travel to over 40 communities in the US, Canada, and Europe to support and motivate, to educate, to advocate, and to bring together.
My year as Mr L.A. Leather (LAL) has been, and continues to be life-changing.
I became the Director of Sexual Health and Advocacy for Kink.com. I have been meeting thousands of fascinating individuals in and out of leather; inside and outside of the LGBTQs; I have heard incredible and heartbreaking stories that inspire me every day.
And just as I was stepping aside from my first title as Eagle L.A. Mr Leather, I was unexpectedly swept off my feet by someone very special who has become a guide, invaluable companion, and stronghold in the past few weeks. How does it get better than that?
So did your titles make you who you are today?
No, they did not. Nobody needs a title to make things that matter happen, and I do not believe that our community is dependent on leather titles. These competitions are entertaining and they raise funds for causes dear to our community. But they are not presidential elections or careers.
At the same time, for nearly all leather titles, there are really no expectations as to what a title holder should or shouldn't do, other than be polite, and show up next year to pass the title along.
My title has been useful in that it gives me an opportunity and 90 seconds of people's attention which I can then use to do whatever I'm feeling passionate about.
If anything made me who I am today, then it is the nine guys I competed with for the L.A. title. None of what I did, or do, would have been possible without their support and inspiration.
How about the International Mr. Leather (I.M.L.) competition in Chicago… what was that experience like for you
My favorite part was hearing Chuck Renslow, the owner of I.M.L., endorse PrEP.
Michael Kaplan (Mr. Heartland Leather), Woody Woodruff (I.M.L. 2012), Chuck Renslow and I had shared a tense conversation about it just four weeks earlier at the 2014 Cleveland Leather Awareness Weekend, (C.L.A.W.), and so Mr. Renslow's hearty endorsement from the podium at I.M.L. was a total surprise.
I don't remember much else, other than a lot of "Hurry up and wait." 2014 was one of the smallest years of I.M.L. with "only" about 45 contestants, but as we were placed into separate groups and the schedule is pretty tight, I only really got to know 12 of my competition brothers. It took a lot of travel to build the brotherhood I feel between me and my brothers in L.A.
What will you do differently now that you're about to turn the title over to your successor.
I dedicated my title year to some of the causes I have been passionate about for a long time, and that will not change.
I have demonstrated against hate crimes and for transgender and racial equality. I've set out to help people with meth addictions and mental health issues. And I've advocated strenuously for an open-minded and pro-choice approach to sexual health.
For example, let's take the "Condoms in Porn" conversation: how dare we limit a person's choice to take control over their own body? Would we want to see that happen to women and birth control? Is an adult film performer not allowed to take charge of his or her own body? Rather than limiting choice, shouldn't we fight to ensure that the right to choose freely, and to take control is protected and guaranteed? Anything else is just not right.
I will always resist and work to prevent whatever toxic mix of ego, personal insecurities, and lack of knowledge from conveying harm onto others by discriminating against people and infringing on everyone's personal right to self-determination.
I believe that unless we open our minds, learn, and empower people, we risk sliding into a moral shallowness that will cost lives… some of them strangers' lives, and others' not.
Tell me about the story behind THE FIGHT cover photo.
Unofficially, I call it "The Modern Leatherman."
The photographer, Dusti Cunningham and Stanford Altamirano, Editor-In-Chief of THE FIGHT, and I wanted to create an image that reflected who I am, our kinkster diversity, and my community advocacy.
Leather is more than "just" leather. "Leather" can be a blanket term for all kinds of fetishes and a self-defining lifestyle. Being a Leatherman does not mean you can't be a pup, or into gear, or be into rubber, or be flamboyant or be a sassy outlaw sometimes, or that you have to be born a specific bio-gender. How sad would it be if we would always stick to an imaginary rule book and not be able to evolve and grow?
I wanted a photograph that summarized those ideas, because they are what makes and keeps "leather" vibrant and relevant today.
After all, since the leather community first began to form in the mid-1950s, "leather" has always been a euphemism for Erotic Outlaw!
---
Guy Baldwin, M.S. is a private-practice psychotherapist in Hollywood who works primarily with those on the erotic frontiers. He also held the titles of Mr. National Leather Association, and International Mr. Leather concurrently many years ago.