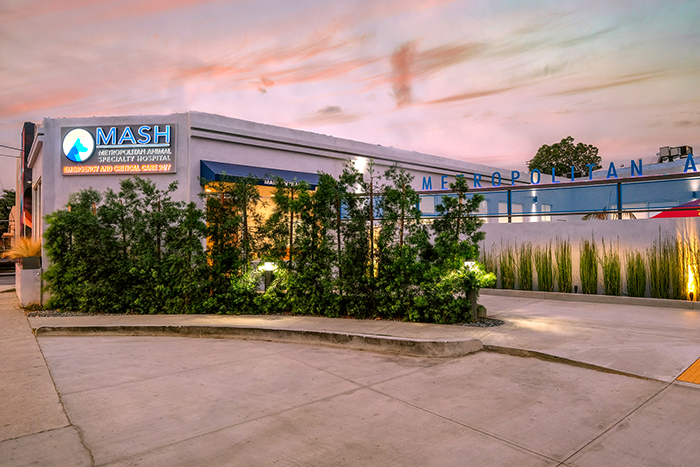 METROPOLITAN ANIMAL SPECIALTY HOSPITAL
Located in the heart of Hollywood, providing high quality specialty and emergency pet care, 24/7
Metropolitan Animal Specialty Hospital (MASH), a 24-hour specialty and emergency animal hospital located on 6565 Santa Monica Blvd., in the heart of Hollywood, offers veterinary Surgery, Internal Medicine, Emergency and Critical Care, Dermatology, Oncology, Ophthalmology, Cardiology, Neurology, and Nutrition, along with an experienced and compassionate Customer Service Team. MASH also provides Dentistry, specifically focused on craniomaxillofacial trauma.
According to Halley Hemmert, MASH's Emergency and Critical Care Department's Co-Manager, what makes the hospital unique are "the nurses and doctors who work here. They go above and beyond for their patients."
"On a daily basis I watch my surgeons hand-feed their pets. I have seen my CEO get on the treatment floor, with his suit pants on, and help treat a patient," says Hemmert in an interview with THE FIGHT.
"My ER doctors and doctors assistants spend countless hours on the phone with owners making sure that they understand the treatment plans and all of their options. Our social workers are here to help guide the pet parents through some of the toughest times they have ever had with their pets."
"I think MASH stands out in so many ways," says Hemmert. "I have never worked for a hospital where I have felt so much support from management. It's no secret that this field is a rough one to work in and MASH goes above and beyond to make their employees feel appreciated."
Additionally, states Hemmert, "MASH is always on the up and up when it comes to veterinary medicine. As a veterinary technician it is amazing to experience high quality medicine and to be around so many different veterinarians and veterinary specialists who work together to provide the best care possible to our patients. I have seen our surgery department create a whole new bladder for a patient who has bladder cancer. I have experienced a patient come into our hospital not breathing after getting into a toxin, and walk out of MASH a few days later. I am constantly impressed by this place."
One thing folks may not know about MASH, reveals Hemmert, is the fact that "our social workers are available seven days a week for both the pet owners and our staff. This has made a huge difference in our patient care and our work environment. It can be a very emotional time having your pet in the hospital and having someone who is trained to deal with that type of stress and anxiety has done nothing but help our clientele."
---
For more info on Metropolitan Animal Specialty Hospital visit: www.mash.vet