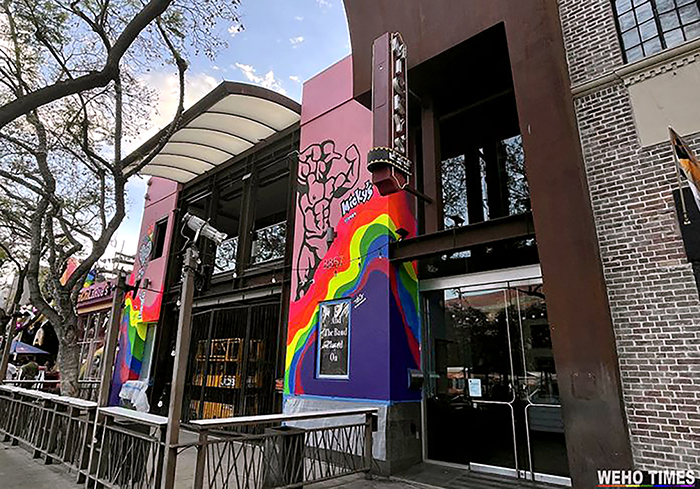 WEST HOLLYWOOD
REVOLVER VIDEO BAR AND MICKY'S NIGHTCLUB RE-OPEN
Revolver Video Bar and Micky's Nightclub have re-opened after being closed for well over a year during the pandemic. Revolver opened on Wednesday, June 16th and Micky's opened on July 1st to the delight of its loyal customers who were concerned that the two gay bars would be lost for good during COVID. Iconic gay spaces like Rage Nightclub, Gold Coast Bar, Flaming Saddles Saloon and Gym Sports Bar all closed in West Hollywood last year. Gym Bar is reopening as the Gym Sportsbar & Grill later this month on Santa Monica Boulevard.
SAN DIEGO
GAY MAN SHOT AND ROBBED AT HILLCREST
A gay man was robbed and shot after attending a drag show in San Diego's gay Hillcrest neighborhood last month. Jack Castillo says an assailant put a gun to his head and demanded the fanny pack he was wearing. Castillo refused, so the assailant shot him in the leg. The attacker then took the fanny pack with Castillo's green card, house keys and passport. The attack left Castillo hospitalized with extensive damage to his kneecap. His recovery will require at least eight weeks on the hospital, and Castillo does not have health insurance. He has since set up a GoFundMe page to help cover his medical bills. San Diego police are currently seeking a suspect described as white, 5-foot-10, with a medium build.
LONG BEACH
NEW RAINBOW LIFEGUARD TOWER REPLACES BURNED TOWER
The city of Long Beach unveiled a brand-new rainbow-colored lifeguard tower to replace the rainbow tower that went up in flames back in March. LGBT-identified lifeguards painted the tower last year to celebrate Pride Month. The same lifeguards painted the new tower to kick off pride celebrations in Long Beach. Firefighters are still investigating the cause of the fire. It is being treated as possible arson. 
LOS ANGELES
BOYLE HEIGHTS HOSTS FIRST ORGULLO FEST PRIDE FESTIVAL
Orgullo Fest, Boyle Heights' first pride festival, took place over the last weekend of June. The Pride Latinx festival brought drag queens belting classic ranchera songs, and a weekend full of performers dancing and singing to cumbias, mariachi and more. The event kicked-off with the host, drag performer Melissa Befierce, introducing mariachi group Los Dorados de Villa. Drag performers lip-synced every hour to Latin American classics and modern hits. The event was organized and co-sponsored by the owner of Noa Noa Place, a gay bar that recently opened in the Spanish speaking community.
PALM SPRINGS
MARILYN MONROE STATUE IS BACK
Marilyn Monroe is back in Palm Springs. The 26-ft tall statue of the Hollywood icon returns with her famous billowing white dress in front of the Palm Springs Art Museum, facing Palm Canyon Drive. The famous statue was unveiled on Sunday, June 20th. The artwork, sculpted by John Seward Johnson II in 2011, was inspired by a scene from the film The Seven Year Itch, It first came to Palm Springs in 2012 as a rental for 26 months and moved to New Jersey in 2014. The unveiling received cheers and jeers. Protesters including the Women's March Foundation chanted that it was misogynistic and exploitative.