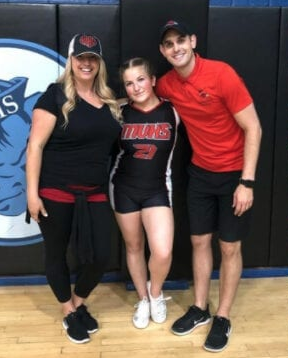 Michael Henderson (R), Instagram
Murrieta Valley High School fired Michael Henderson, head coach of cheer and stunt program, after he served three years in that job, reports Patch.
The coach, 31, believes he was fired because he is gay. He filed a wrongful termination lawsuit alleging that the process leading to his dismissal was "flawed."
Many of his student athletes and their families agreed. They gathered Wednesday afternoon at a rally at the high school in support of the coach.
The dismissal came after the school received an anonymous complaint letter against the coach.
"I never saw the letter," Henderson said. "I wasn't even given a chance to respond. I was never interviewed about any of it."
Henderson's sexuality was the basis of his dismissal, his attorney, Terry Davis, said. He called the investigation into the anonymous letter "improper," reports Patch.
"The anonymous letter was sent to MVUSD by what is believed to be a couple of disgruntled cheer parents who were angry with their child's position or participation level in the team," Davis said.
The investigation into the letter "was spearheaded by a devout Mormon MVUSD Board Member, who made calls to several unnamed sources impeding due process of the investigation," Davis said. "One question related to his sexual orientation raised red flags, leading many to believe that it was a substantial factor in the district's decision to terminate Mr. Henderson's employment."
READ MORE HERE:
https://patch.com/california/temecula/s/hoaru/gay-cheer-coach-fired-murrieta-valley-hs-team-wants-him-back?utm_source=facebook.com&utm_medium=social&utm_term=sports&utm_campaign=autopost&utm_content=temecula