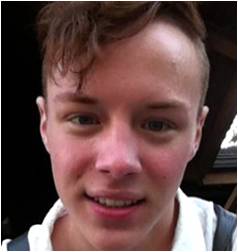 (Photo: Jadin Bell, RIP)
Larry McMurtry and Diana Ossana, the screenwriters behind 2005's Brokeback Mountain, have teamed up again for Good Joe Bell, a new film starring Mark Wahlberg, set to have its premiere at the Toronto International Film Festival on September 14, reports Towleroad.
The film is based on the real-life story of Joe Bell, who in 2013 began a cross-country trek to raise awareness about his gay son, Jadin, who had hanged himself after being bullied. Bell died during that walk after being hit by a semi truck.  reported on Bell's death at the time.
WATCH A NEWS REPORT ON JOE BELL'S JOURNEY AND DEATH: