An interview with Philip Yaeger, the Executive Director & CEO of the largest provider of LGBTQ+ healthcare in Orange County.
BY MARK ARIEL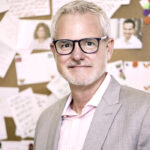 Radiant Health Centers (RHC) in Orange County offers a full range of social services to clients who require assistance with the most basic of needs such as food, housing and transportation. They also offer mental health counseling, family programs and specialized programs for seniors.
"Over the past several years we have expanded our medical services, which allows us to provide the appropriate medications for clients who are both HIV-positive and those who are HIV-negative but are at high risk," reveals RHC's Executive Director & CEO Philip Yaeger.
"We also offer family planning services and will continue to expand our medical services in the years to come," Yaeger adds.
In an interview with THE FIGHT Yaeger talks about dealing with the current health crisis, mental health services and providing a safe and stigma free environment.
A one stop healthcare center that provides a full range of social services and medical care tailored to the LGBTQ+ community.
How has Radiant Health adapted to the current pandemic? Can people still come to the facility?
Yes, our food pantry continues to operate out of our facility in Irvine. We have modified operations to ensure social distancing for clients and staff. All other services can be accessed via phone, email, and tele-health platforms.
We also offer HIV home testing kits that can be conducted at home and partner with pharmacies that will discreetly deliver prescriptions to our client's home.
You mentioned tele-health platforms. How does that work?
Referrals for our mental health services have grown by 300% over the past few months. Our current clients are seeking more mental health care, we have past clients who are returning to us for mental health services and we have new clients who are seeking help due to the stressors that come with this pandemic. Our tele-health services are used to create a sense of community. We offer four mental health Zoom support groups in English and Spanish.
A little about you—how long have you been with Radiant Health? What motivated you to join the organization?
I first joined the organization in 1993 as a volunteer. This was after a family friend had suddenly died of AIDS without the benefit of any community support. I felt I needed to do something to support our community that was being impacted. After a couple of months of volunteering in the office, I was fortunate enough to be hired as a staff member later that year, and served in many roles before moving into the CEO position in 2008.
I have been through many transitions and milestones with AIDS Services Foundation, now Radiant Health Centers. With the advancement of medications, we shifted from helping people with HIV/AIDS die with dignity to helping them live long productive lives. We are no stranger to adversity and we are meeting this pandemic head on to prioritize the needs of our clients.
What else should our readers know about Radiant Health Centers?
We are the largest provider of LGBTQ+ healthcare in Orange County and we are focused on building our services to one day become a Federally Qualified Health Care Center. We provide a safe and stigma free environment for our clients to receive the care they deserve and continue to build our medical services with the vision of becoming a one stop healthcare center that provides a full range of social services and medical care tailored to the LGBTQ+community.
---
For more info call 949-809-5700 or visit www.RadiantHealthCenters.org.