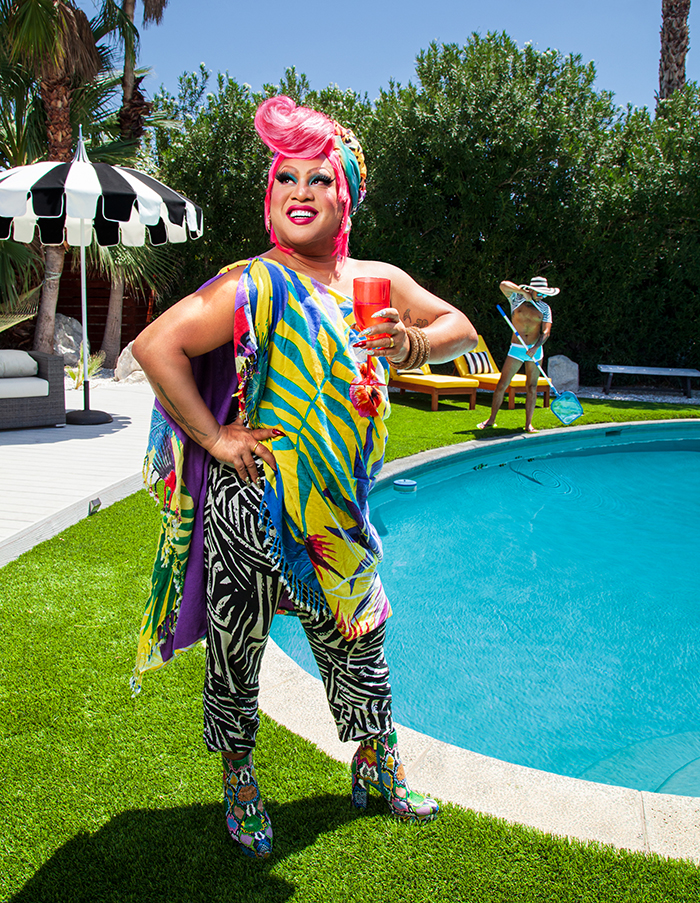 Part-time Palm Springs resident Chef Arnold Myint—aka Suzy Wong—on the hospitality industry, neighborhood boys and Barbie dolls
BY MARK ARIEL | PHOTO BY DUSTI CUNNINGHAM
Renowned chef, restaurateur, entrepreneur, Food Network Star season 11 and Top Chef D.C. Arnold Myint (aka Suzy Wong—more on that later) didn't initially intend to conquer the culinary world.
"I was actually touring as a competitive and professional ice skater… I ended up doing shows on a cruise ship for a couple of contracts and was making plans to pursue musical theater in NYC as my next step," Myint reveals in an interview with THE FIGHT.
"Once in NYC, I fell in love worth the food scene and as an excuse to stay in the city, went to culinary school. Looking back, my entire time touring the world, all my journals recalled food experiences; what I ate, drank, the decor, and even the playlists. It was a natural progression."
Myint, who grew up in Nashville, says he had "a pretty well rounded upbringing. My father exposed me to pretty much every opportunity, many of which did not stick; like summer camp with sleeping bags and boy scouts. I did love gymnastics (my favorite was the balance beam, but that's a girls' sport, so he built me one at home). I was never really limited. I remember just being me. If I wanted a Barbie, I'd ask for it. And I recall riding my skateboard in the alley behind our house with my neighborhood boys and my dolls in hand so I could watch their hair blow in the wind…"
"Socially, my bubble was very accepting and open. My parents were both very hip and worldly so I wasn't exposed to much cultural adversity. My parents founded the Buddhist Temple in Nashville and my mother was very active in charity work; specifically during the AIDS crisis in the early 80s."
"Growing up we would travel to Asia for summer vacations so I was exposed to a multitude of experiences and genres people," recalls Myint.
"I traveled a ton as a skater as well… I think I was a bit of a misfit but not in the awkward sense. I mean, I was voted most athletic my senior year in high school; as a figure skater… And even at almost 40 years old, when the Miss Gay America Pageant (which I won the title a couple years later in 2017) was held in Nashville, my parents rounded up their friends and customers to come watch their son prance around on stage in thousands of dolls in beads and rhinestones."
Myint says that his mother was a major influence in his life. "She was magical. She was everyone's mother. She ran my family's restaurant and market, tirelessly for over 40 years. Being in Nashville, and right next to a university and music row, she fed all types of people and generations of families. Her spirit and food raised us all; such a remarkable woman. She was a tiny woman but a huge force. She helped mold the food culture in Nashville. She's a legend…rainbow glittered manicure, chignon, daily Thai silk and all."
Myint's alter ego Suzy Wong came to life around ten years ago. "It was right about when I went on Top Chef," reveals Myint. "I partnered with the guys that own Play Dance Bar and Tribe in Nashville and created the concept for an adjacent restaurant called Suzy Wong's House of Yum. Seeing as their club has a drag theater, I was drawn to it, missing my skating days so… much like many others, my alter ego Suzy Wong was born on Halloween. She is what I like to consider the brand ambassador for the restaurant!"
When asked how he is with business during the pandemic (he is currently chef/owner/partner of three restaurants) Myint says he is utilizing the time to renovate his properties and work on a new spot.
"My sister and I are opening a tribute restaurant. And we are taking this time to fix all the patchwork that needs to be done on our buildings. I do not want to jeopardize the safety of our staff, considering some ladies in the kitchen have been working for my family longer than I have been alive. Safety and health is key. And if I can get my city of Nashville to comply ever so slightly, we might could get back to it, but until then, I am happy to be hiding in my house in Palm Springs."
Additionally, says Myint, "I'm devastated for so many of my friends and business peers in the hospitality industry. It's such a humbling time. I mean, I love food and I love this profession, but it's not going to be the same. It's tragic considering the momentum food culture has been on recently. I am grateful however, that I still have a platform to share my passion through fundraising and social media. Thankfully, Instagram has provided a voice and a chance to have income as (and I say this loosely and a bit sarcastically) an influencer. I feel that a ton of my friends, myself included, are finding creative ways to hustle."
---
For more on Arnold and Suzy check out IG @arnoldmyintbna.