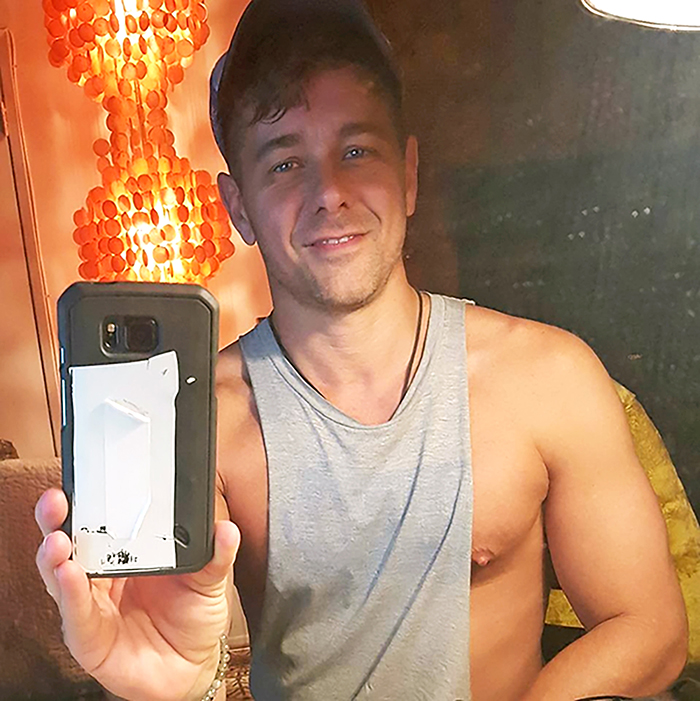 WEST HOLLYWOOD
SHOCK, DISBELIEF OVER DEATH OF CHARLES KINSLEY
The West Hollywood community was in shock last month after learning of the death of Charles Kinsley, a man widely known for his lengthy bartending gig at Mother Lode in the heart of WeHo's Boystown. Kinsley has been a fixture in the city of West Hollywood dating back to the early 90s. He's had jobs in the city at places that no longer exist, like RubiRosa, Eat Well and Axis dance club.
Friends and longtime customers gathered at the Mother Lode last month to share stories and celebrate his life. According to a WeHo Times source, Kinsley died of a heart attack.
---
SAN PEDRO
FIRST GAY PRIDE FESTIVAL COMING TO SAN PEDRO PORT
San Pedro is gearing up for its first gay pride festival on June 15. The Daily Breeze reports that organizer Aiden Garcia-Sheffield and his husband helped start a networking group that became a foundation for the "Pride on the Port" event. He and others believe will bring between 5,000 and 7,000 people to San Pedro's waterfront. The event comes with the support of Los Angeles City Councilman Joe Buscaino and a new nonprofit group called Bridge Cities Alliance. Garcia-Sheffield and other members of the board of directors plan to hold the festival—from 11am to 10pm on June 15 at the Battleship Iowa.
To learn more, visit prideontheport.com. 
---
LOS ANGELES
WRONGFUL DEATH LAWSUIT FILED AGAINST ED BUCK
Political activist Ed Buck was hit with a wrongful death lawsuit last month in connection with a young man's fatal overdose in 2017 at the Democratic donor's West Hollywood apartment, reports NBC News.
Gemmel Moore's mother, LaTisha Nixon, filed the lawsuit in California Superior Court against Buck, Los Angeles District Attorney Jackie Lacey, the assistant district attorney and others.
After Moore's death in Buck's home, L.A. investigators ruled it an accidental overdose and declined to charge Buck. But after Nixon recovered Moore's personal effects from the coroner, she discovered a personal journal in which Moore wrote that Buck had gotten him hooked on crystal meth by injecting him with the dangerous drug, according to her lawsuit.
---
SAN DIEGO
HILLCREST LGBT PRIDE FLAG VANDALIZED
Two plaques beneath the Pride Flag on University Avenue and Normal Street in the heart of San Diego's gay Hillcrest area were scratched up and damaged with a sharp object making deep gashes on the surface. One plaque has severe scratches over the picture depicting the pride flag. The faces in the image were also slashed.
San Diego Gay and Lesbian News (SDGLN) publisher Hale Media is partnering with the Crest Cafe to start a fundraiser in an effort to restore and protect the plates from future vandalism. Hale Media and Crest Cafe will match $20 dollar donations with a $20 meal voucher to be used at the restaurant. The proceeds will replace the panels and add protective acrylic overlays to thwart off future destruction.
---
INDIO
TRANSGENDER SIBLINGS CLAIM DISCRIMINATION AT COACHELLA
Two transgender siblings are saying that they were denied bathroom access at the Coachella Valley Music and Arts Festival last year, and they're demanding policy changes.
The ACLU of Southern California, which is representing the siblings, sent a letter on their behalf to the festival organizers.
Navi and Juice Huskey say that they attended Coachella last April. Navi, a trans woman, said she tried to use the women's restroom, according to the ACLU's letter. A nearby security guard told her that she couldn't, and didn't explain why.
Juice, who is transmasculine, tried to use the men's restroom and were escorted out by a security guard.
The ACLU cited Coachella's website, which promised gender-neutral restrooms, and California law, which bans discrimination on the basis of gender identity.