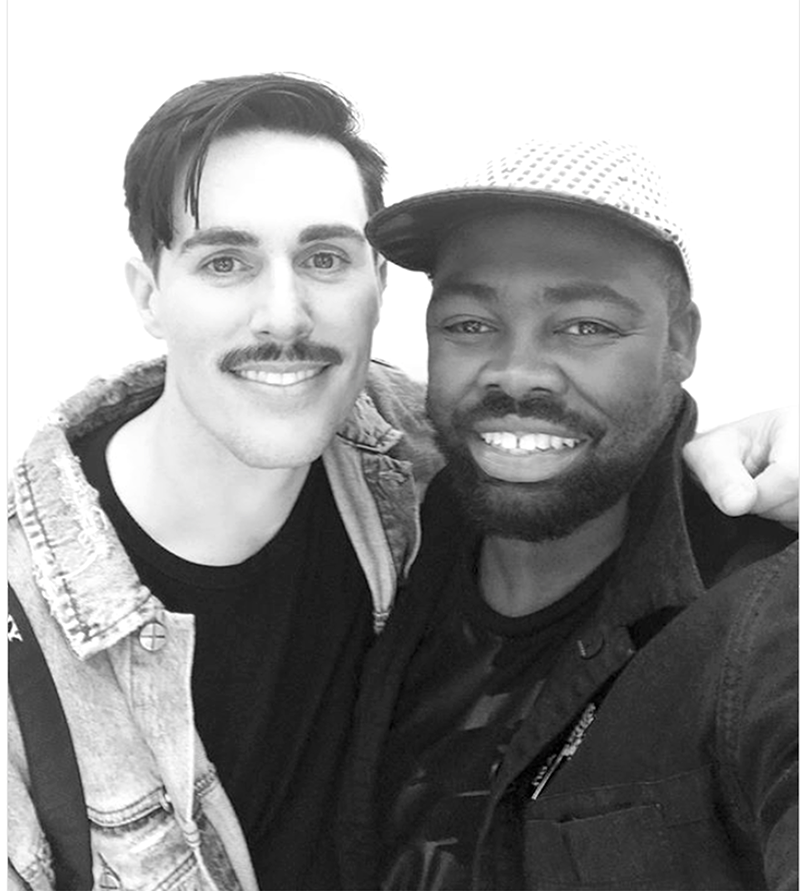 Sparro (L), Lennox
YUCCA VALLEY
SINGER SAM SPARRO, DJ ZION LENNOX GET HITCHED
Australian singer-songwriter Sam Sparro best known for his 2008 single Black and Gold, married partner Zion Lennox last month in a California desert ceremony, reports NewNowNext.
Lennox, a DJ, shared an photo on Instagram writing, "So excited to be marrying the love of my life tomorrow."
The wedding took place in Yucca Valley, a Mojave Desert community near Joshua Tree National Park.
British singer-songwriter MNEK and Sharlene Hector of British trio LaSharVu were among those in attendance. Jake Shears wished the couple well on Instagram.
---
WEST HOLLYWOOD
CITY HOLDS FIRST EVER BI PRIDE CELEBRATION
The city of West Hollywood hosted the first ever citywide Bi Pride celebration on September 22, the day before Bi Visibility Day, which is designated annually on September 23. The event was co-sponsored by the Human Rights Campaign LA, and amBi—a social organization that strives to build community for bisexual people, partners, and allies through events, meet-ups and other activities.
The event, believed to be the first city-wide Bi Pride celebration in the United States, started with a rally in front of WeHo Park Auditorium, followed by a Bi Visibility Walk and concluded with a party. There was a performance by singer Torrey Mercer, an art exhibit by Kai Hazelwood and a spoken word performance by Irene Suico Soriano.
---
PALM SPRINGS
EMCEE AT LGBTQ CONFERENCE RESIGNS AFTER ANTI-TRANS REMARK
Marshall McPeek, a gay meteorologist made headlines after spouting anti-trans comments at the Association of LGBTQ Journalists (NLGJA) conference in Palm Springs where he was an emcee early last month. McPeek took the stage to address ladies and gentlemen and then added, "things and its." The meteorologist at a Sinclair-owned ABC affiliate station in Ohio later apologized and resigned his membership.
Organizers said McPeek was a volunteer emcee, who "made an inappropriate, unscripted remark that does not reflect our values."
---
HOLLYWOOD
LA CITY COUNCIL ALLOCATES 850K TOWARDS LGBT CENTER
The Los Angeles City Council approved two motions to allocate two grants in the amount of $850,000 towards the construction of the LGBT Center's Anita May Rosenstein Campus. The grants are for construction of affordable housing, homeless beds, and homelessness services, to be located across from The Village at Ed Gould Plaza on North McCadden Place in East Hollywood. The Campus will provide 98 units of affordable housing for seniors, 25 units of affordable housing for youth, 60 beds for the transitional living program, 40 emergency overnight beds, as well as a commercial-grade kitchen, on-site parking, and a number of services and resources for individuals experiencing homelessness.
---
LOS ANGELES
FARAH FAWCETT'S SON SUED FOR ALLEGED HOMOPHOBIC ATTACK
A gay man has filed a lawsuit against Redmond O'Neal, the son of actors Farah Fawcett and Ryan O'Neal, accusing him of a vicious attack motivated by hate, reports LGBTQ Nation.
Ken Fox said that the attack occurred on May 2 this year when he was going to a laundromat. Fox said he saw O'Neal approach him wearing a hoodie and a bottle.
"What are you looking at, faggot?" O'Neal allegedly said.
Fox says that O'Neal rushed at him and hit him in the nose with the bottle. O'Neal stood over him when he was on the ground, taunting him with slurs and punching him.
The Los Angeles District Attorney filed a felony assault charge in connection with the attack on Fox.