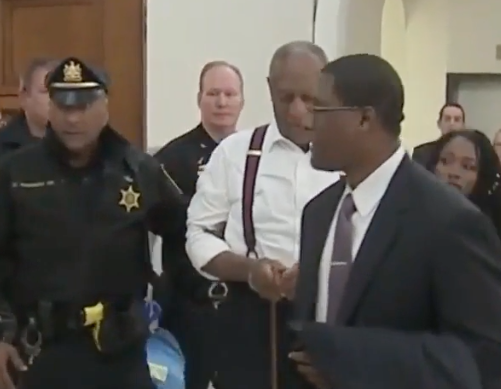 Bill Cosby was sentenced to three to 10 years in state prison for his 2004 assault of Andrea Constand, a Montgomery County judge ruled Tuesday, reports USA Today.
Judge Steven O'Neill told Cosby he would serve "no less than three and no more than 10 years" in state prison, in addition to levying a $25,000 fine and requiring the convicted sex offender to pay court costs.
"It is time for justice. Mr. Cosby, this has all circled back to you. The time has come," O'Neill said. He quoted from Constand's own statement to the court, in which she said Cosby took her "beautiful, young spirit and crushed it."
Because his sentence is longer than two years, O'Neill denied Cosby bail, remanding him to custody immediately, telling the courtroom, "This is a serious crime. … The nature of this crime indicates that he could be a danger to the community."
After removing his jacket and watch, Cosby was led away in handcuffs, shuffling as an officer held his arm. Wearing a blank expression, he did not respond to a reporter's request for comment.
WATCH: