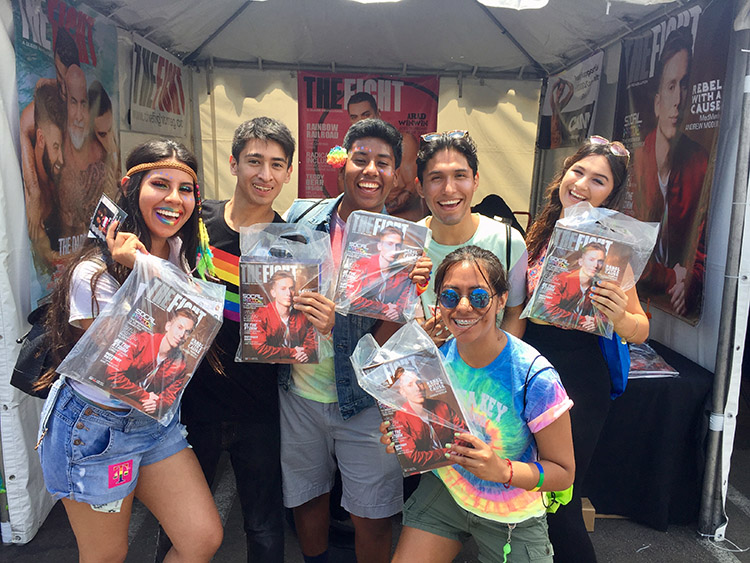 THE FIGHT at OC Pride, last month.
LOS ANGELES
Center Hosts Trans Pride LA 2017
The Los Angeles LGBT Center hosted Trans Pride LA last month at The Village in Hollywood. Trans Pride LA is one of the oldest and largest trans celebrations in the country. The event offered more than 30 organizations – part of a resource fair that offered information on a wide selection of services and programs vital to the trans community. The event also featured a name and gender change clinic sponsored by the Transgender Law Center. Interactive workshops included a self-care workshop, a special activism-through-social-networking seminar, and a Supernova Self-Defense workshop. There was also a clothing swap; and a photo shoot by Jen Rosenstein for her book Transformational Project.
WEST HOLLYWOOD
Annual Rainbow Key Awards
The City of West Hollywood held the annual Rainbow Key Awards last month to recognize people and groups that have made outstanding contributions to the LGBTQ community. This year's Rainbow Key Awards honorees included Cleve Jones, who conceived the NAMES Project National AIDS Quilt; JQ International, an organization dedicated to promoting a healthy integration of LGBTQ and Jewish identities; Eric Paul Leue, HIV awareness and prevention advocate; Los Angeles Gay & Lesbian Chamber of Commerce, dedicated to advocating on behalf of LGBT businesses; and Michaela Ivri Mendelsohn, transgender activist, public speaker and CEO of Pollo West Corporation to name a few.
SAN DIEGO
"Gay-Conversion" Conference Protest
The LGBT community in San Diego came together last month to hold a vigil and a peaceful protest to oppose a controversial religious conference that took place in the city. The conference was organized by the Restored Hope Network. The group believes they can help people who want to overcome "sinful sexual desires," like being homosexual. The weekend conference included biblical teaching, workshops, and stories from people who've struggled with sexual attraction and were allegedly "transformed." "Conversion therapy" is illegal in California.
ORANGE COUNTY
OC Pride Hits Santa Ana
The OC Pride LGBT parade and festival returned to downtown Santa Ana last month. This year's theme was one of unity, solidarity and working "As One." The day-long festival featured live music and lectures, as well as the crowning of the Mr., Ms. and Miss Gay Pride Orange County. Last year's parade was well attended with more than 15,000 people. It was the first large gay pride event in Orange County in more than a decade, according to reports. Festival headliners included drag performers Adore Delano and Katya, as well as singer-songwriter Dev. Speakers at the Frida Cinema included comedian Jaleesa Johnson and author Josh Sabarra.
PALM SPRINGS
Thousands Join Unity March
Thousands of people in Palm Springs participated in a Unity March in support of equality and resistance for equal rights last month. Supporters took to the streets in downtown PS to support sister resist marches that took place at LA Pride in Los Angeles and across the country. "I think its important all of us in Palm Springs come together and express how important it is to make sure LGBT rights are preserved. [LGBT Rights] are under attack. We gained many gains in the last administration and we need to preserve those," pride advocate Linda Middleton told local news.