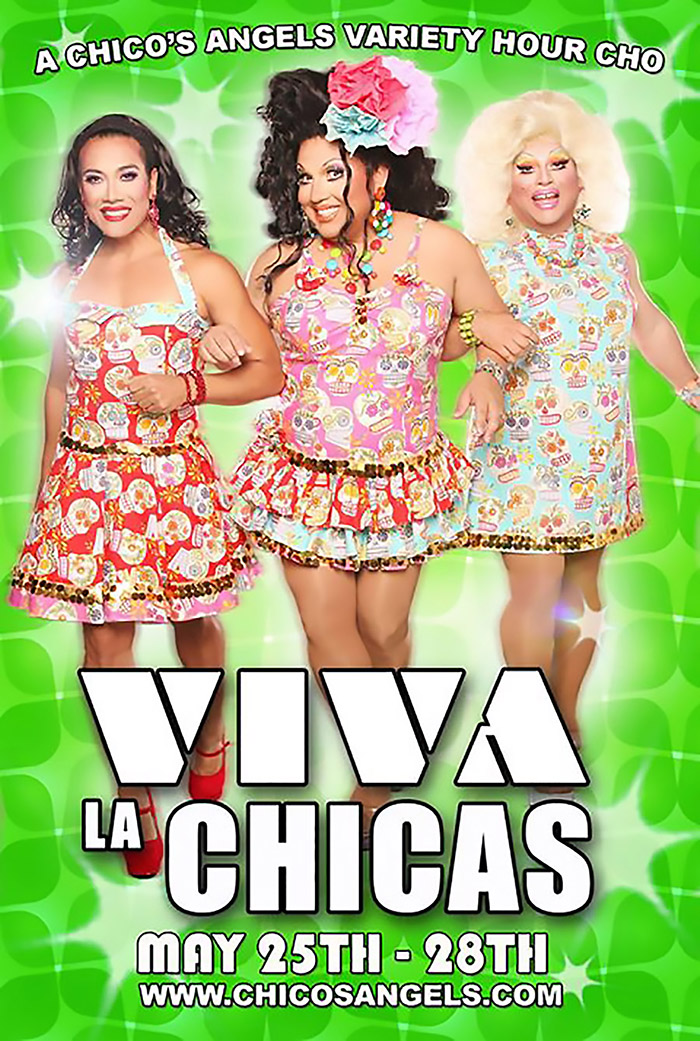 WEDNESDAY MAY 3
OUTFEST—90 MILES
West Hollywood Library, 625 N San Vicente Blvd. 7:30pm. Juan Carlos Zaldivar's 90 Miles (2001) tells the personal tale of the filmmaker's journey at age 13 from a small town in Cuba to Miami. Zaldivar will be in attendance for a post-screening Q&A.
GIRL POWER! A DRAGALICIOUS SPICE GIRLS TRIBUTE
Redline Food & Bar—DTLA, 131 E 6th St., 9pm-12am. More info: RedlineDTLA.com. A full show featuring all the hits and some surprises! Music by Josh Peace. Arrive early because seats will fill up!
CRACKED UP AT THE FAULTLINE
Faultline, 4216 Melrose Ave., 9pm-10pm. More info: faultlinebar.com. Stand Up Comedy by and for LGBT & Allies!
THURSDAY, MAY 4
POSTCARDS FROM THE EDGE: BEERS & QUEERS 
Angel City Brewery, 216 Alameda St, Los Angeles, CA 90012. 7:30pm–10pm. More info: angelcitybrewery.com.
Join the Outfest Emerging Leaders Council as they host the 3rd Annual Beers & Queers. This year the event will be screening Postcards From The Edge, in honor of Carrie Fisher, who penned the script. Before the screening begins, join them for a very special performance from RuPaul Drag Race star Pandora Boxx.
FRIDAY, MAY 5
CINCO DE MAYO LGBT HAPPY HOUR
Redline Food & Bar—DTLA, 131 E 6th St, 6pm-9pm. Second annual Cinco De Mayo LGBTQ mixer in downtown Los Angeles hosted by HONOR PAC and Latino Equality Alliance. Free event with a raffle and drinks specials.
SATURDAY, MAY 6
DRAG QUEEN WORLD SERIES
Glendale Sports Complex, 2200 Fern Ln, Glendale, CA 91208. 1pm–4pm. Tickets available at dragqueenworldseries.com. LA Sisters of Perpetual Indulgence vs. The West Hollywood Cheerleaders in a Charity Ball Game to benefit the Life Group LA and the POZ Life Weekend Seminars. Fun filled, comedy, antic's, raffles, prizes and food!
BULLET BAR 10 YEAR ANNIVERSARY
Bullet Bar, 10522 Burbank Blvd, North Hollywood. 9pm–2am.
BC&B PRESENTS: THE BIG ONE 
Eagle LA, 4219 Santa Monica Blvd, Los Angeles. 9pm–2am. First anniversary at the only social event for one of the most popular Instagram pages for bears, cubs, bearded men and fans! And for the first time, exclusive BC&B featured go-go dancers.
FRIDAY, MAY 12
RHONDAVOUS RETURNS
Union, 4067 W Pico Blvd, Los Angeles, CA 90019. 9pm–2am. It's the attack of the 50ft woman & she's got the world to prove with nothing to lose.
SATURDAY, MAY 13
AN EVENING WITH WOMEN 
The Hollywood Palladium, 6215 Sunset Blvd, Los Angeles, CA 90028. 6pm. Tickets & Info: www.aneveningwithwomen.org. Get ready to resist, persist, and rock. An unforgettable one night only event benefiting the women's services of the Los Angeles LGBT Center.
TAMMIE BROWN: LIVE AND IN PERSON 
Hamburger Mary's, 8288 Santa Monica Blvd, West Hollywood, CA. 8pm–9pm. Tammie Brown is backwith her one woman show, Planet Tammie, featuring Michael Catti on guitar.
ROAD CODE: BUS TRIP TO SAN DIEGO
Eagle LA, 4219 Santa Monica Blvd., 6pm–2am. To purchase tickets, visit eventbrite.com. The first annual Los Angeles Leather Coalition (LALC)  full scale family road trip to visit our cousins at Pecs and the San Diego Eagle. Both bars eagerly await with drink specials and fun. Only 50 seats available.
SUNDAY, MAY 14
BEARS IN SPACE: BRING YOUR MOTHER TO WERK 
Akbar, 4356 Sunset Blvd, Los Angeles. 3:00pm-2:00am. Info: www.akbarsilverlake.com. It's Mother's Day as well as Summer season opener and who better to help us celebrate than our own very fairy godmother, DJ Harvey.
HOT RODEO PALM SPRINGS 
A. C. Dysart Equestrian Center, 2101 W Victory Avenue, Banning, CA, 92220. Info: psrodeo.org/hotrodeo.
BREAKING BALLS
Eagle LA, 4219 Santa Monica Blvd, Los Angeles, CA 90029. 4pm–8pm. Party with the men of ONYX Southwest beer bust.
THURSDAY, MAY 18
LEGENDARY BINGO 
Hamburger Mary's West Hollywood, 8288 Santa Monica Blvd, West Hollywood. 7pm–9pm. Starring Bingo-boy & Drag Queen Bingo Hostess.
FRIDAY, MAY 19
RUBBER F*CKER
Eagle LA, 4219 Santa Monica Blvd, Los Angeles, CA 90029. 10pm–1am. The hottest party for men into rubber, latex and fetish gear is back! Come dressed in your hottest gear (head to toe) and we will let you into the sexy abyss of kinky men for free!  $6 cover otherwise.
SATURDAY, MAY 20
LONG BEACH PRIDE CELEBRATION
Shoreline Drive, Long Beach. Through Sunday May 21. More info: ww.longbeachpride.com. The Annual Long Beach Pride Festival over the weekend, with parade on Sunday at 10:30am. Route: Ocean Ave. at Lindero to Alamitos launches with the participants of a mass wedding taking place at 9:30am.
OVERBOARD LBC
The Queen Mary, 1126 Queens Hwy, Long Beach, CA 90802. 7pm–2am. Info: www.overboardlbc.com. Long Beach Pride's Biggest Circuit Party.
TUESDAY, MAY 23
VIVA LA CHICAS!
Cavern Club Theater inside Casita Del Campo Restaurant,1920 Hyperion Ave, Los Angeles (Silverlake), CA 90027. Runs through May 28. Tickets sold at: www.chicosangels.com. The south of the border hotties, Chico's Angels in their newest stage venture, a one hour variety show.
THURSDAY, MAY 25
S/HE & ME STARRING ALEXANDRA BILLINGS 
Renberg Theater, 1125 N McCadden Place, Los Angeles, CA 90038. 8pm. A celebration in words and music of the intense relationships and love affairs we all have with our pasts. Starring Alexandra Billings (Transparent), conceived and directed by Joanne Gordon.