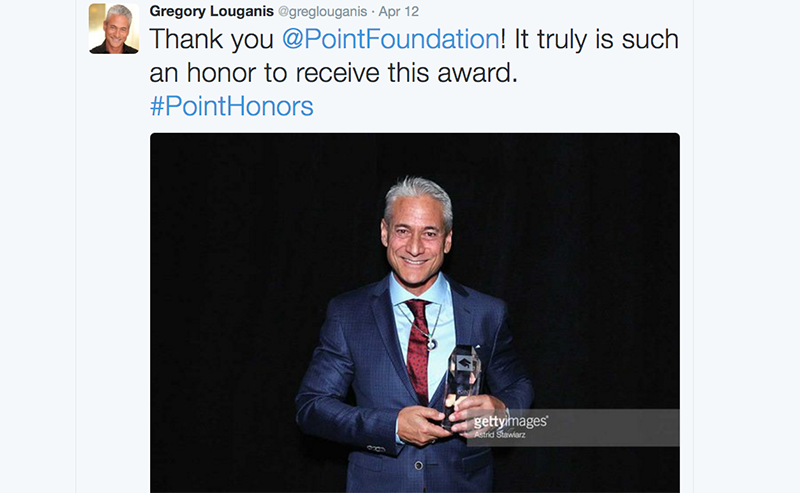 By Paulo Murillo
Point Foundation, the nation's largest scholarship-granting organization for LGBTQ students of merit, invited legends, leaders and stars of the screen and stage to their annual Point Honors gala at the New York Public Library, April 11, to celebrate the accomplishments of Point's higher education scholarship recipients.
Creator and executive Producer of ABC's "How to Get Away with Murder," Pete Nowalk, received the Point Leadership Award–an award bestowed on an individual who has achieved prominence in their professional career as well as for their unequivocally support of the LGBTQ community. Jack Falahee and Conrad Ricamora, who appear on the show, were on hand to present Nowalk with the award. In his acceptance speech, Nowalk spoke about how audiences have responded enthusiastically to the LGBTQ characters on the show.
"The relationship between Connor and Oliver is one of the show's most popular, and it has even encouraged me to write more LGBTQ characters into the show – including Viola's character who is now one of the only LGBTQ leads on TV," Nowalk said. "The only reason I had the guts to write any of this is because I had parents who made sure I could go to college. But most LGBTQ kids aren't as lucky as I was. Most can't even afford to hope for a college education. Thanks to Point Foundation, now a few more can and they are going to do big, world-changing things with their futures."
A highlight of the evening was when five-time Olympic medalist Greg Louganis was honored with the Point Legend Award, which recognizes an individual who has achieved greatness in their professional career and unapologetically supported the LGBTQ community. Louganis, who recently received the long overdue honor of appearing on the box of Wheaties cereal, was presented with the award by fellow Olympic freestyle skier, Gus Kenworthy.
"Get in the pool – the pool of life; the pool of love; the pool of service," Louganis advised Point Scholarship recipients. "You will find others there, and together those ripples can become waves – waves of higher achievement, of self-acceptance, and just as important, the acceptance of others from all walks of life."
The evening featured performances by Billy Gilman, Lena Hall, and Maddie Shea Baldwin from the cast of Broadway's "Bright Star." Other celebrity participants included Laith Ashley, Erich Bergen, Michelle Collins, Mallory Hagan, Julie Klausner, Selenis Leyva, Miguel Marquez, and Sarah Stiles.
Jorge Valencia, Point Foundation's Executive Director and Chief Executive Officer, spoke of Point's new Community College Program, where students intending to transfer to a four-year college can apply for a tuition scholarship, along with professional coaching and invitations to attend some of Point's leadership development conferences. Wells Fargo–a longtime Point supporter will sponsor the first year of this new program.
"Thanks to the enthusiastic support of individuals and companies, we are expanding our ability to help LGBTQ students, "Valencia said. "Along with Point's existing scholarships and leadership development programs, we are also excited to empower promising LGBTQ students in community college."
Over 400 guests showed their support for LGBTQ students at the annual Point Honors gala. The evening raised $500,000 for Point scholarships. Point will announce the recipients of all of its 2016–2017 scholarships in June 2016.
For more information on Point Foundation and to donate, visit pointfoundation.org