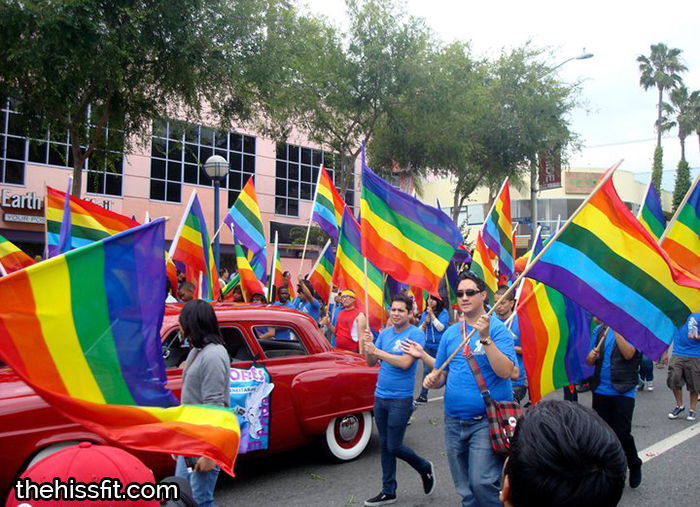 Photo & Text by Paulo Murillo –
LGBT residents lash out against Christopher Street West's LA Pride at WeHo City Council Meeting.
Community members packed the West Hollywood City council meeting this month to express their grievances against Christopher Street West (CSW) —the non-profit organization responsible for LA Pride, taking place next month, June 10-12.
The main issues of malcontent revolved around the ticket prices – $35 at the festival gate, as compared to $25 last year, and the fact that this year's Pride is being branded as a "music festival" focusing on millennials – which some are calling  a "blatant commercialization of Pride," and an affront to older members of the LGBT community.
Residents also complained about not being informed about the existence of components from previous Prides, such as the Country Western dance stage and the popular Erotic City.
A number of transgender speakers said they felt excluded from this year's festival, with the reduction of trans events in comparison to last year's Pride.
WeHo resident Ivy Bottini  blasted CSW for making changes to the festival without consulting the community. "Who is running CSW?" She asked. "Is it a one-man show; a two-man show…?"
CSW's current president Chris Classen, said in response to the onslaught of criticism that "this year's festival is the most inclusive ever produced," and that "music has always been a huge component of LA Pride."
Classen agreed to have a dialogue about extending the free hours from 6pm to 9pm on Friday night. He said the Country Western section was not cancelled, and that the popular Erotic City would return to the library garage. He also agreed to look into providing discounted tickets for LGBT youth at the gate.
***For more info on the upcoming LA Pride – visit lapride.org.***