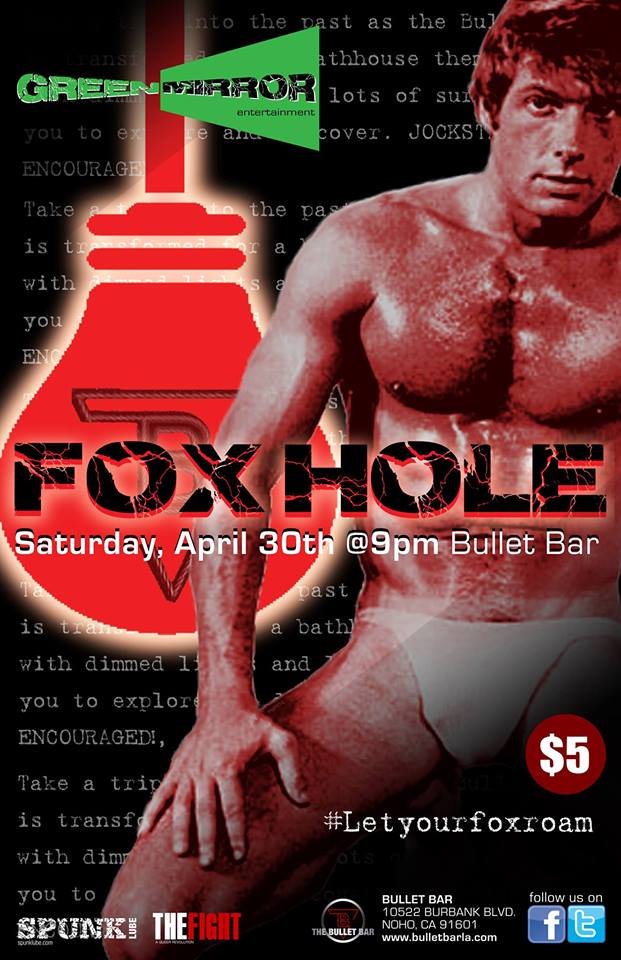 Green Mirror Entertainment proudly presents
Once again The Bullet Bar takes you back to the golden days when men gathered at bathhouses to socialize and play.
FOX HOLE will recreate this vibe with vintage bathhouse themed party with dimmed lighting, hot music, friendly atmosphere and lots of surprises for you to explore and discover 😉
FREE TOWEL SERVICE and CLOTHES CHECK for those in attendance.
Go-Go Foxes, drinks specials and more!

$5 COVER
$2.00 OFF YOUR 1ST DRINK*
*ARRIVE AT THE BULLET BAR VIA UBER,
LIFT OR TAXI AND WE'LL REWARD YOU
WITH $2.00 OFF YOUR FIRST DRINK!
Location: The Bullet Bar
10522 Burbank Blvd. NoHo CA 91601
www.BulletBarLA.com
Like us on Facebook – Follow us on Twitter
15 min walk from North Hollywood Metro Station
Bullet Parking
http://www.bulletbarla.com/parking.html
SELF PARKING AT
5655 Whitnall Hwy, North Hollywood, CA
3 MINUTE WALK FROM THE BULLET BAR