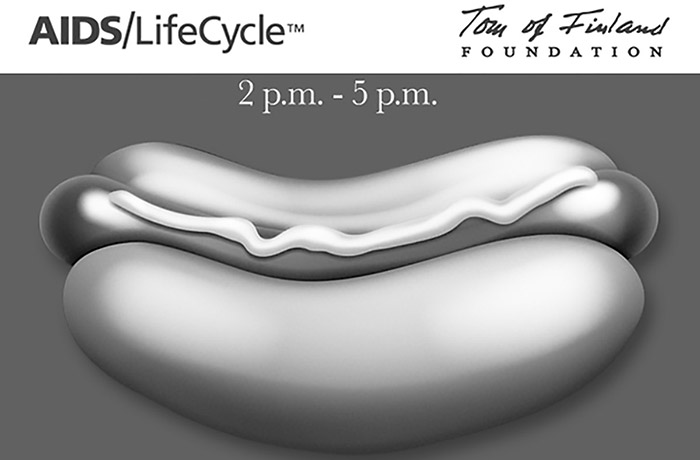 SEE SATURDAY, AUGUST 15
---
SUNDAY, AUGUST 9
ONYX SOUTHERN CA/SOUTHWEST BAR NIGHT
Eagle LA, 4219 Santa Monica Blvd., LA, 4pm-8pm. Visit facebook.com/events/841144082629887.
Come out and join the Men of ONYX and the men who love them as they celebrate the formation of their new chapter in Southern California and Southwest Region and meet them at their new home bar The Eagle LA.
---
THURSDAY, AUGUST 13
DESPERATELY SEEKING SUSAN 30TH ANNIVERSARY
AMC Universal Citywalk Stadium 19 & IMAX, 100 Universal City Plaza, 7:30pm-9:19pm. For tickets, visit tugg.com/events/15235.
Promoted by DIVA: Diverse and Inclusive Visionary Artists, by Nelson Melegrito. One night only. Wear your favorite Material getups and win prizes. Seats are limited. $12.00 General admission.
---
SATURDAY, AUGUST 15
TOM OF FINLAND SUMMER BBQ
Tom of Finland Foundation, 1421 Laveta Terrace, LA, 2pm-5pm. RSVP at aidslifecycle.org/tomoffinland. AIDS/LifeCycle and Co-Host Team Payasos, invite you to celebrate their amazing accomplishment of raising over $100K for AIDS/LifeCycle 2015. Join the fun with BBQ, Beer, and Raffles from sponsors: OX Balls, Rough Trade Gear, WET Lube, Anheuser-Busch, and much more. Receive $20 OFF AIDS/LifeCycle 2016 Ride registration with promo code "TOM" at www.aidslifecycle.org/register
RAVERRR SQURRRL
Akbar, 4356 Sunset Blvd, LA, 9pm-2am. Visit facebook.com/events/884044278350846 for updates.
Get ready to get your rave on. In the front room you get your favorite glitter ponies David Banjela & SF's notorious Suppositori Spelling. In the back you have DJ Medic, Mateo Segade and Trevor Sigler keeping your ears hydrated. The talented Dusti Cunningham will be capturing the moments.
CABARET CON-SENSUAL: DOS
LA MOTHER, 1627 N Gower St., LA, 8pm-1am, Get tix at cabaretconsensualdos.bpt.me.
Here's a body-positive, sex-positive, cabaret fundraiser for the non-profit, More Than "No" featuring burlesque, dance, stand-up, songs and a night to champion consent-culture and feel sexy in your own skin.
TRAUMA: OLDSCHOOL FOR THE HEADSTRONG
LOT 613, 613 Imperial St., LA, 9pm-4am. Visit wantickets.com/Events/187999/Trauma-Oldschool-For-The-Headstrong/.
This a 16 year reunion event featuring a long list of guest DJs. Step into the time machine and be taken back to a time where the best times in the scene were in the City of Angeles nestled deep underground.
MADONNA/ MICHAEL JACKSON BIRTHDAY TRIBUTE
Artesia Bar, 1995 Artesia Blvd, Redondo Beach, 5pm-2am. Visit artesiabar.com.
South Bay's ONLY Gay & Lesbian spot is hosting the Annual Royalty of Pop Party, in honor of the August birthdays of the Queen and King of Pop Music. Join the Moonwalk Challenge, Vogue-off, Costume Contest, with Happy Hour till 9pm and beats by DJ HeadTurama. No cover.
---
FRIDAY, AUGUST 21
BEARRACUDA LA
Faultline Bar, 4216 Melrose Ave., LA, 9pm. For more, visit: bearracuda.com.
Bearracuda LA presents: 6 Night Stand at Faultline! You get rotating DJs and beefy go-go boys. Photos and decor by Dusti Cunningham. Bearracuda goes on the road to Faultline for a 6 night stand! Every 3rd Friday till the end of the year, we'll be partying in Silverlake with 100's of guys.
GROWLR BEAR DEN
The Bullet Bar, 10522 Burbank Blvd., NoHo, 9pm. Visit BulletBarLA.com.
This is an official GROWLR App event, featuring DJ Manuelito with HOT DANCING BEARS! Show that you're a GROWLR and Receive Happy Hour Prices. Sign up at GROWLrapp.com. NO COVER
---
SATURDAY, AUGUST 22
OIL CAN HARRY'S DISCO NIGHT
Oil Can Harry's, 11502 Ventura Blvd., Studio City, 9pm-2am. For updates, visit facebook.com/events/993327760732323.
Join a party celebrating Studio 54's final party on February 4, 1980. Disco Dress code: Glitter, Glam, Outrageous, Leathermen, Sexy, drama.
THE 2015 L.A. TACO FESTIVAL
Grand Park, 200 N. Grand Ave., LA. 12pm-7pm. For more info, visit latacofestival.com.
The TACO FESTIVAL benefits Jovenes, Inc. when it makes its way to Grand Park. Enjoy food, music and togetherness in the heart of DTLA at the free, family-friendly event. Stick around for The Big Proud Picnic at Grand Park's Event Lawn.
---
SUNDAY, AUGUST 23
QUEEN USA PAGEANT 2015
Arena, 6655 Santa Monica Blvd, LA, 7pm. For more Information: Call KARINA (213) 999-0456.
The Imperial Court of Los Angeles & Hollywood Proudly Presents Queen U.S.A. Pageant 2015. Door Ticket Sale: VIP Seats $30.00 / Gen. Admission $ 20.00 Proceeds to Benefit: "Nicole Murray Ramirez Scholarship Fund." The Imperial Court of Los Angeles & Hollywood is a 501 C3 Non-Profit Organization.