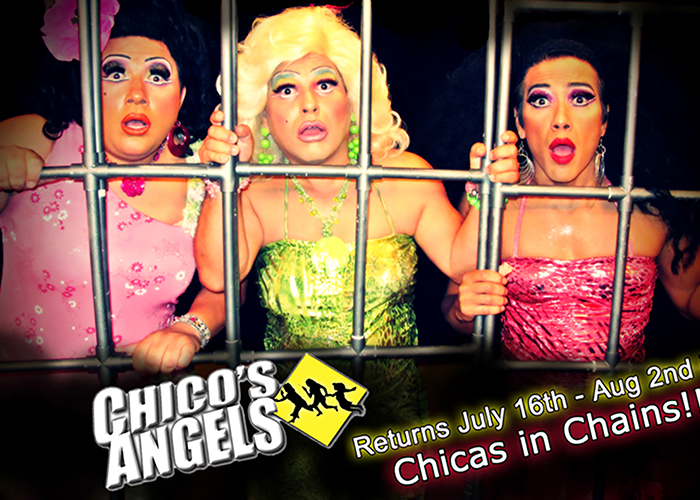 THURSDAY, JULY 9
OUTFEST LOS ANGELES LGBT FILM FESTIVAL

For tickets and venue information, visit outfest.org.
Outfest includes 166 feature films, at various locations. Runs through July 19.
---
FRIDAY, JULY 10
A CLUB CALLED RHONDA
Los Globos, 3040 W Sunset Blvd,, 9pm. For updates, visit: facebook.com/events/465432630279731. Featuring Cut Copy DJs, Super Flu, Kornél Kovács, & A Very Special Guest.
ELECTRIC DANCE FITNESS
Century Day & Night Spa, 4120 W Olympic Blvd, 8pm-9pm. For more information visit: facebook.com/events/1454947164799357. Fitness party with Connor Howe and a special guest instructor.
TURBONEGRO

Monty Bar, 1222 west 7th at DTLA, 9pm-2am. Visit facebook.com/events/1624919791082161 for more information. Pure Trash and Turbojugend LA present a night filled of party tunes for Party Animals! No cover.
GLOW ME: 80s ARCADE
The Bullet, 10522 Burbank Blvd, 9pm-2am. Visit vimeo.com/121862842 for more info. The fun and kinky black light party is back. This time you get a game or two to play. Enjoy 80s music, 8 bit video games, Black lights, neon glow painting done by local artists, and more.
BUMP
Akbar, 4356 W. Sunset Blvd, 10pm-2am. Monthly dance party every second Friday of the month. DJ NELSTAR (Nelson Stitt) mixes 90s House and Dance. Hot Go-Go Studs.
---
SUNDAY, JULY 11
$ATURDAY NIGHT $LUT

Fubar, 7994 Santa Monica Blvd, 2pm-2am. For updates, visit fubarla.com/wordpress. Back dark room action, midnight blackout and 8 go-go boys who want your money. Gay Pimp Jonny McGovern is in the DJ booth and Lady Red Couture is at the door.
FORTUNE'S HOLLYWOOD POOL PARTY
Hollywood Roosevelt Hotel, 7000 Hollywood Blvd, 12pm-6pm. Free RSVP at: bit.ly/fortunepoolparty. Lineup includes: Travis Emmons, BONES, Lee Wells Music, Shmitty Brohlson and Sonder.
---
THURSDAY, JULY 16
CHICAS IN CHAINS
Casita Del Campo, 1920 Hyperion Ave, 8PM. Visit chicosangels.com. Join Kay Sedia, Chita Parol & Frieda Laye as they go under the covers to find a high school hooker witness! Shows run from July 16 – August 2, Thursday 8pm; Friday & Saturday, 9pm and Sunday 3 & 8pm.
LOST PUPPY
Eagle LA, 4219 Santa Monica Blvd (at Myra Ave.), 9pm-2am. Visit eaglela.com for more information. The pups are back celebrating their 1st year anniversary. Come get lost and see what you can find. DJ Sean Niles will be spinning thumping house beats for your puppy pleasure!
---
FRIDAY, JULY 17
THE PRIDE OF HILLCREST BLOCK PARTY
Fabulous Hillcrest, intersection of Normal St and University Ave, 6pm-11pm. 2015 San Diego Pride and Fabulous Hillcrest hosting its annual premier event.
---
SUNDAY, JULY 19
SAN DIEGO PRIDE PARADE
Hillcrest Pride Flag, University Ave. and Normal St, 11am. For more information, visit sdpride.org. The theme this year is Liberty and Justice For All.
SAN DIEGO PRIDE MUSIC FESTIVAL
Marston Pt., Balboa Park (6th Ave. & Laurel St.), 11am-10pm. For more information, visit sdpride.org. Multiple stages, more than 200 musicians, bands, comedians, and dancers, vendor booths, an art exhibit, cultural presentations, and great food.
---
 SUNDAY, JULY 19
SAN DIEGO PRIDE ZOO PARTY
San Diego Zoo, 2920 Zoo Drive, 4pm-11pm. The party is back at the world famous San Diego Zoo with DJ Wayne G, DJ, Ralphi Rosario and more. Tickets are limited to 3500.
---