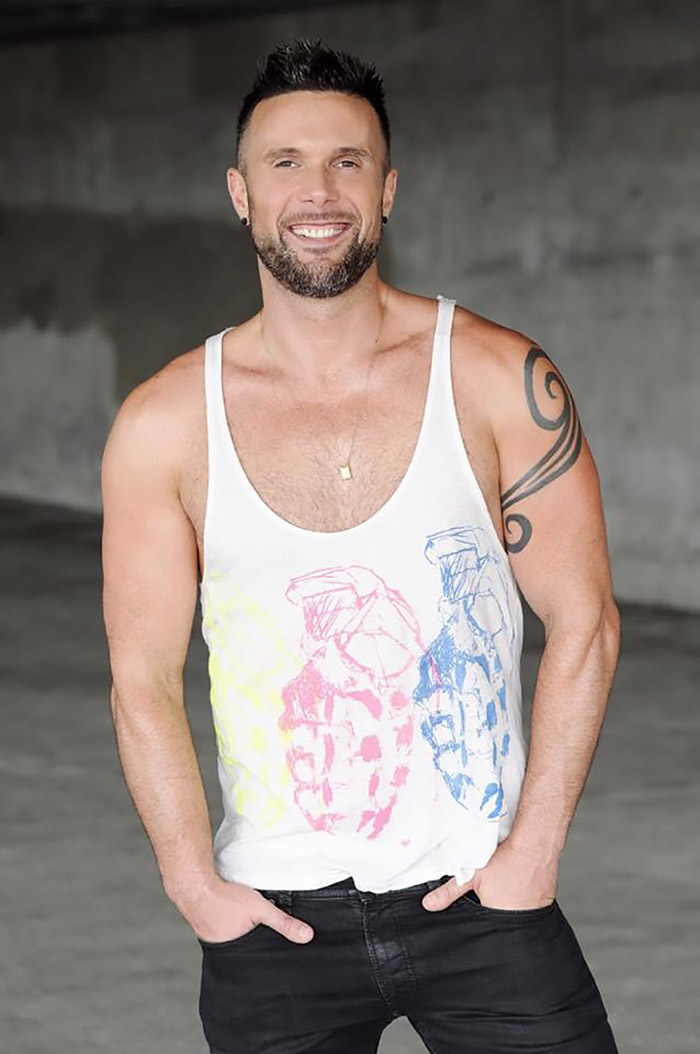 Dan De Leon on regaining control of your mind, body and soul, and living the life of your dreams.
BY VICTOR MELAMED
Dan De Leon is a circuit DJ, top Billboard remixer, music producer, label owner, event promoter and filmmaker. He is a creative force that immigrated to the United States by way of Argentina in 1979 at the age of 2. His DJ sets are famous for making the boys sweat like crazy on the dance floor and he is known for his many productions and collaborations with dance music legends such as Chus & Ceballos and Victor Calderone.
De Leon has performed at the largest circuit parties and music festivals all over the world from the White Party in Palm Springs to NYC PRIDE, Winter Party Miami, Heaven in Shanghai and Circuit Week in Barcelona.
This month, on Saturday July 18—during San Diego Pride—De Leon is celebrating his 2nd year debut of his FLAUNT pool parties. The follow up to his first ever DJ compilation album FLAUNT from last summer, FLAUNT 2015, comes out this September.
In a conversation with THE FIGHT De Leon talks about his various creative endeavors, regaining control of his mind, body and soul, and living the life of your dreams.
---
"I've struggled with drug addiction, divorce, HIV and ADD. I think the most powerful thing I can say about these experiences is that everything—no that anything—can be overcome."
---
SCORSESE-LIKE UNIVERSE
I was 17 when I produced my first feature film, actually the world's first all teen-made feature. We premiered at the Sundance Film Festival in 1997 and went on to sell the film to the Encore channel. I then wrote, directed and produced my own short film called "Anything Once" that went on to premiere at OUTFEST 1998, the Los Angeles gay and lesbian film festival. My short went on to screen at film festivals all over the world between 1998 and 2003. I was touring with my short film for 5 years. It was during this time I began looking for a feature project to direct. I was in my early 20s and had just started going out to clubs and raves in the California desert. I realized that even though there were films like "Groove" and "Go" being made and getting a lot of attention, no one had really zeroed in on the club, DJ, dance and drug worlds the way I understood it. I see the dance music industry as more of a Scorsese-like universe that intrinsically intertwines between these worlds.
I set out to write that film and in the process began taking DJ lessons from my best friend Ben Berger, a DJ and immigrant from Israel. After about a year of research my friend Ben was brutally murdered by another group of people I knew who managed DJs on the side as a cover for their drug business. It was not long after that I decided that in order to finish my script I would have to actually DJ in a club and experience what it was like to actually be a DJ. I didn't know it at the time but that decision would lead me to my next passion and into the next decade of my life as a global touring club DJ.
PERSONAL DEMONS
Over the last 12 years of DJing in clubs and festivals all over the world I've learned so much about life, and most of that I've learned the hard way. I meditate and have been a practicing Buddhist since 1998 but that doesn't mean I haven't had my trials and tribulations. Besides testifying in 3 capitol murder trials due to the murder of my friend and DJ mentor I've also struggled with drug addiction, divorce, HIV and ADD. I think the most powerful thing I can say about these experiences is that everything, no that anything, can be overcome. What we need as humans is love, support, stability and clarity. With these basic building blocks anyone can learn how to overcome their personal demons, their history, and forge a future of their own design as bright and as spectacular as anything they can imagine.
MAKING AN IMPACT
Since regaining control of my mind, body and soul in 2011, my love and passion for my music has led me in the last few years to become a Billboard Reporting DJ, create my record label PUMP Records, reinvigorate my DJ career on a global scale, produce a vast array of remixes and original music productions, release my first DJ compilation album, launch several new parties and nightlife brands including FLAUNT and IGNITE, and to give back to my community by investing my time, knowledge and expertise into the careers of new producers and DJs like that of Josh Whitaker of ACTION! and Matinée USA fame.
The single most important piece of advice I could give a fellow artist is to stay clean, stay focused, think positive and accept total responsibility for their life. I've read two books recently that have revolutionized my world that I would highly recommend to anyone. The first is "The Maverick Mindset" by John Elliott which focuses on the mindset of success. The second is "Mastery" by Robert Greene which is an essential guide to becoming a professional in any creative profession. It takes years and years of positive energy, hard work and keen observations to become successful and achieve a lasting career that can make an impact in your life and others. If you're in it for the long haul and you're serious about what you want, you can do and be anything you desire and have the life of your dreams.
---
For more about Dan De Leon and his upcoming events visit DJDANDELEON.com. Follow Dan on Twitter @djdeleon, at Facebook.com/djdandeleon.