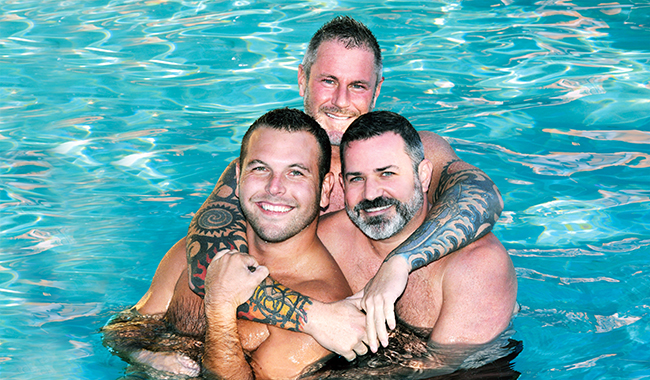 The International Bear Convergence this month in Palm Springs. 
BY VICTOR MELAMED
The second International Bear Convergence (IBC), the premier winter event for Bears & admirers in Palm Springs, takes place takes place this month on February 12-16, 2015, Presidents' Day Weekend, at The Renaissance Palm Springs.
The four-day event includes themed pool parties, live entertainment and thousands of bears from around the globe.
"The IBC team is astounded as to how the event has grown in size in one year," says Stevo Harris, the event's producer, in an interview with THE FIGHT.
"It's going to be a packed event for sure—we are getting swamped with phone calls!  The hotel can still be booked on line through the IBC web site.  There have been a few cancellations so as those rooms open, we are putting them back into the system."
"There are still packages available and those will go back on sale Friday morning, February 13th at 9am at the host hotel lobby," reveals Harris.
"You can purchase tickets to any of the events at the door and we are expecting a huge crowd for the Ultra Naté and Amber concert. Oh and they will be selling their CDs and signing autographs after the concert. If you are coming to the concert, make sure you get to the hotel at 9pm to purchase your concert ticket."
For more info—and to reserve tickets—visit: www.ibc-ps.com.