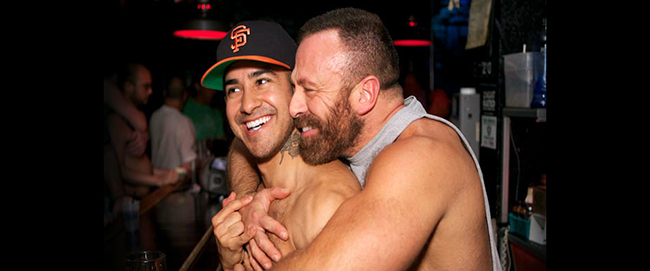 B BAR AT EAGLE LA. SEE THURSDAY, JANUARY 22
WEDNESDAY, JANUARY 7
OUTFEST WEST HOLLYWOOD SERIES: "LOOKING"
Council Chambers, 625 N. San Vicente Blvd, 7:30pm. For more information, and to RSVP, visit outfest.org/weho-series. The first two episodes of season two of HBO's "Looking." Admission is free.
FRIDAY, JANUARY 9
TOPMEN
Bullet Bar, 10522 Burbank Blvd, 9pm. Visit gofundme.com/bensontrailer for more information. Fundraiser to film the trailer of the upcoming film, "MR. BENSON: The Movie." Based off a story featured in DRUMMER Magazine, the film is about BDSM leather culture in the 70s. Hosted by Dan Lovell.
SATURDAY, JANUARY 10
LGBT FAMILY ICE SKATING
Woodland Hills Ice, 6100 Topanga Canyon Blvd. For more contact Mandy Litwin at familyservices@lalgbtcenter.org, or call 323-860-3661. 11am to 12:30pm.
Bundle up and get cozy for some ice skating fun with other LGBT families.
SUNDAY, JANUARY 11
NO PANTS METRO RIDE 2015
Los Angeles
Hollywood Metro, Los Angeles. For more information, visit facebook.com/events/621608774635031.
Official Debriefing and After Party is back.
TUESDAY, JANUARY 13
15TH ANNUAL CYBERSOCKET AWARDS
Penthouse Nightclub, 661 N. Robertson Blvd, West Hollywood, 8:30pm-2:00am. Visit cybersocket.com for more info.
Red Carpet Interviews with Sister Roma and pre party with DJ Chi Chi LaRue start at 8:30pm. Awards Presentation from 10:30-Midnight. After Party at Midnight, till 2am w/ DJ Brandon Wilde. Go-go dancers provided by Ducati Models.
THURSDAY, JANUARY 15
MISS DAKOTA'S GYPSY ROSE BURLESQUE
Harvelle's Blues Club, 1432 4th St., Santa Monica10pm. For more information, visit, dollhouseent.com/miss-dakotas-gypsy-rose.
Enjoy a full dance production that infuses Classic Burlesque with Latin, Ballet, Cabaret, and Aerial influences.
GET CENTERED! TOUR
McDonald/Wright Building, 1625 Schrader Blvd, 12pm – 1pm. Contact Jorge Mellado at jmellado@lalgbtcenter.org for more information, or call 323-993-7635.
Experience the LA LGBT Center in 60 minutes. Learn everything the Center has to offer with a tour to see how they open their doors of hope for our community.
SATURDAY, JANUARY 17
VISIONQUEST: MR. SOCAL LEATHER 2015 CONTEST
Eagle LA, 4219 Santa Monica Blvd (at Myra Ave.) 9pm-12am.
Even though the contest is still a few weeks away, the search begins for men interested in competing for the title and become the next Mr. SoCal Leather.
SUNDAY, JANUARY 18
WEST HOLLYWOOD MLK JR. DAY OF SERVICE
West Hollywood Elementary, 970 Hammond St., 9am – 3pm. To sign up call (323) 848-6885.
Join the City of West Hollywood in beautifying West Hollywood Elementary School for the 2015 West Hollywood MLK Jr. Day of Service. Volunteers are needed.
EAGLE LA MR. LEATHER 2015
Eagle LA, 4219 Santa Monica Blvd, LA, starting at 7pm.
Contact Charlie at Charlie@EagleLA.com if you're interested in competing. Save the date and join the fun.
THURSDAY, JANUARY 22
B BAR
Eagle LA, 4219 Santa Monica Blvd. 9pm – 2am. Visit thefightmag.com for more information.
THE FIGHT Magazine invites all bears, cubs, otters and fans of all scruffy, furry creatures to gather at B Bar, at the The Eagle LA, for some big hairy fun with hot tunes by DJ Ryan Jones. Enjoy 10 handle draft beer bust, and a chance to win free International Bear Convergence (IBC) tickets!!!
TRIBE – WEST HOLLYWOOD GAY MEN'S DISCUSSION GROUP
West Hollywood Library, Community Meeting Room, 625 N. San Vicente Blvd. 7:30pm – 9pm. For more information, visit www.weho.org/tribe.
TRIBE meets the third Thursday of every month for a series of discussions on issues of importance to the gay male community. Admission is free.
SATURDAY, JANUARY 24
DENLA PRESENTS: JUST SEX
Threshold, 11300 Hartland St, N. Hollywood, 9pm-2am. For tickets visit, eventbrite.com/e/denla-presents-just-sex-tickets-14579500679. This is Euro-Style Dance and Play Party For Men Who Love Men. Open bar. Hot GoGo Boys. Large Dance area with play spaces throughout! Dress Code: Gear, Leather, Underwear, Jocks, Sports Kit, or just a smile. No street clothes.
SATURDAY, JANUARY 31
MR. PISTONS LEATHER 2015 CONTEST
Pistons Bar – 2020 E Artesia Blvd, Long Beach, 8pm to 2am. Visit pistonsbar.com for more info.
This year marks Pistons' 50th year of continuous operation as a leather bar in Southern California. It also marks the 20th year of the Mr. Pistons Leather title.