The ins and outs of dental implant surgery with leading Beverly Hills periodontist Dr. Mahnaz Rashti.
Creating healthy smiles utilizing the best restoration method for missing or damaged natural teeth requires the care of a periodontist—a dental implant expert—who is specially trained and skilled in implant dentistry.
A periodontist is a dentist who specializes in the prevention, diagnosis, and treatment of periodontal disease, and in the placement of dental implants. Periodontists receive extensive training in these areas, including three to five additional years of education beyond dental school.
According to Dr. Mahnaz Rashti, a respected Beverly Hills based periodontist, many patients in need of a dental implant expert look for "the right price rather than the right surgeon."
"Placement and restoration of a dental implant is a very technique-sensitive procedure that needs to be conducted by a surgeon periodontist rather than a general dentist," states Dr. Rashti.
"I have heard countless stories of patients coming from other dental practices who experienced severe pain when they had their dental implants placed, or that their dental implants failed," reveals Dr. Rashti.
"I hate to sound like a broken record but shopping for the 'right price' rather than the right surgeon and right practice is usually the reason why the procedure goes awry."
"Dental implants—when placed properly and placed by the proper surgeon—should not be painful, nor should fail if you follow your doctor's advice," states Dr. Rashti.
Dr. Rashti is well-known in her field for treating patients who have experienced dental implant failure with other dentists.
"The most frustrating and common problem I encounter when I retreat patients who have had their implants done by a non-specialist, is infection and damage to the bone," reveals Dr. Rashti.
"In the oral cavity, the amount of bone is very minimal—measured by millimeters.  It is very important to properly manage the patient's own remaining bone as it is very costly and time consuming to recreate that bone," explains Dr. Rashti.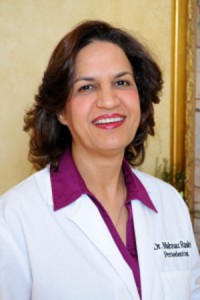 If you are in need of dental implants—or any other dental treatment—Dr. Rashti can be reached at (310) 623-3330. For more information visit: dentalimplant90210.com.