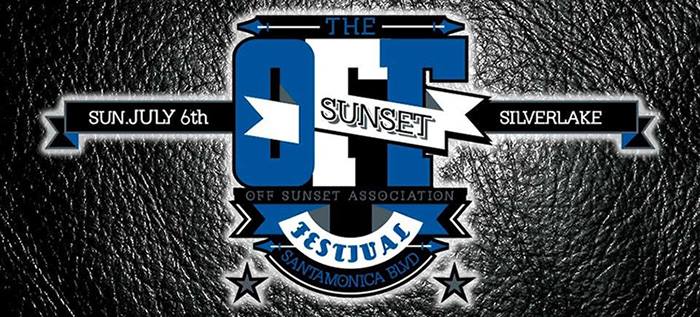 The Off-Sunset Festival returns for a second year after a successful run in 2013.  The heart of Silverlake is set to deliver an exciting day full of music, culture, art, food and fun. 5,000 people attended the event last year.  8,000 are projected to attend this year–making this a bigger and better event than 2013.
The summer kicks off with over a half-mile of live music, dancing on the street to DJ-driven sounds, gourmet food trucks, beer trailers, ice-cold specialty drinks and hand-picked merchandise, art and novelty vendors.
Electronic industrial rock band My Life with the Thrill Kill Kult (a.k.a Thrill Kill Kult or TKK) headlines this year's festival. Known for their early satirical satanic themes, sleazy disco sound and psychedelic/surf/rock/go-go house beats, Thrill Kill Kult is bound to make a spectacle on Sunday, July 6.  They are scheduled to hit the main stage at 7:30pm.
THE OFF-SUNSET FESTIVAL 2014 FINAL LINEUP IS AS FOLLOWS:
Fur Factr – 12 noon
Barrio Tiger – 1pm
Fly N Tiger – 2pm
The Mo Odds – 3pm
Handsome as Sin – 4pm
GayC/DC – 5pm
The Record Company – 6pm
My Life With The Thrill Kill Kult – 7:30pm
The event is put together by The Off-Sunset Association–a group of individuals who live, work, and play in the Silverlake area, and are committed to enriching the neighborhoods where they own businesses and frequent local restaurant and bars.
The Off Sunset Association is a 501(c)3 non-profit organization who raises funds for its community grant program through the production of the annual Off Sunset Festival.  The OSA grant program reinvests funds into Silverlake and its neighboring community supporting beautification, art and youth programs with an emphasis on the LGBT community. for more information, visit offsunsetfestival.com