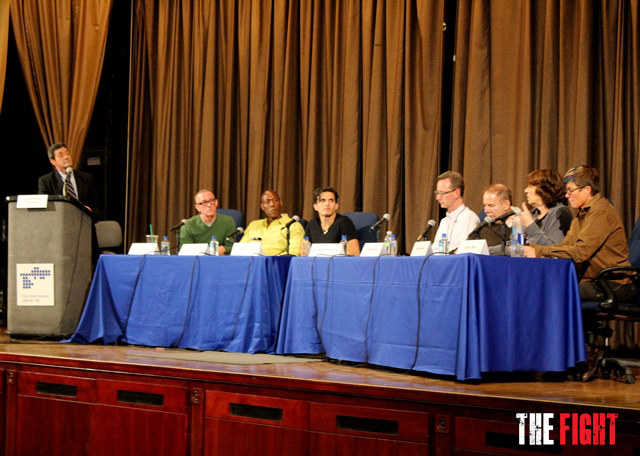 The City of West Hollywood held the event "Tina and Gina: Killing Us Softly"–a panel discussion on sex, meth and GHB in the gay community on Wednesday, May 7 at the West Hollywood auditorium, as part of the city's ongoing efforts and commitment to providing information, services, and resources regarding substance abuse.
The panel of experts included Trinka Porrata (Project GHB), Kathy Watt (Van Ness Recovery House), Dr. Keith Heinzerling (UCLA Center for Behavioral and Addiction Medicine), Mark Honzel (MRH Medical Group & KLEAN Treatment Centers), as well as former users in recovery, Jeffrey Drew (activist), Greg Howell (founder of G-Lixir and a television/special events producer), and The Fight's feature writer Paulo Murillo. The event was moderated by West Hollywood Councilmember, John J. Duran.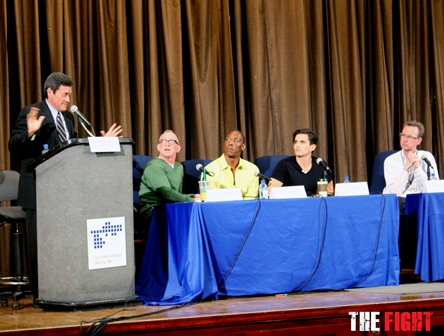 GHB (Gamma-Hydroxybutyric acid) is prescribed under the name Xyrem to treat sleep disorders and catalepsy. But it's also notorious for its illegal use and the fact that it can have fatal consequences when used with alcohol or other drugs. At lower doses it has an effect similar to alcohol, making the user feel relaxed and sociable. But higher doses can cause vomiting, muscle spasms and loss of consciousness. When ingested with alcohol, it can slow down one's breathing rate and quickly result in death. Jovin Raethz, a popular trainer in West Hollywood, died during a visit to New York City in March from what was later determined to be a combination of GHB, cocaine and alcohol.
Crystal meth
Methamphetamine hydrochloride (crystal meth) is approved by the federal Food and Drug Administration under the trade name Desoxyn to treat attention deficit hyperactivity disorder and obesity. However, it is used recreationally to increase sexual desire, lift the mood and increase energy. For some users the result is sexual activity continuously for several days straight. It is highly addictive and it can cause psychosis and brain damage.
The panel was a live broadcast on WehoTV, via Time Warner Cable channel 10 or digital channel 95-203 within the City of West Hollywood. The discussion will also available online at www.weho.org/wehotv.