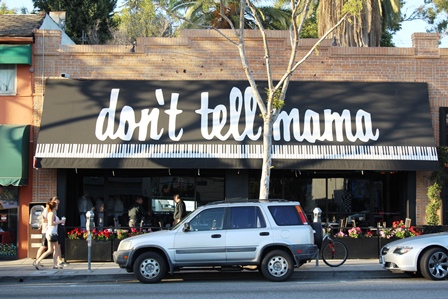 Good old fashioned cabaret piano bar, Don't Tell Mama Piano in West Hollywood will be closing its doors after being open for a little over a year.  The space on 8279 Santa Monica Blvd opened on February of last year.
Don't Tell Mama took over the former O-Bar restaurant and piano bar space, which was empty since O-Bar closed in July of 2011.  Long time WeHo residents may also fondly remember this space housed the former Capones piano bar which had a decent run in the 1990s.
The piano Bar was named after the title song featured in the 1966 Broadway Musical "Cabaret."  It was established in 1982 on Restaurant Row in the heart of the Theater District in NYC.  It's been featured in numerous TV shows like "Friends" and "Saturday Night Live" and also boasts a long list of performers who went on to win an Emmy, Grammy, Tony, Oscar and the Pulitzer Price, according to their website, donttellmamanyc.com.
Mike Kalbo, an owner of DTM, who is based in New York City, told WEHOVille that although the venue had good live entertainment, it did not work financially.  "We expected more customers, more volume. It didn't happen. We needed to move on."