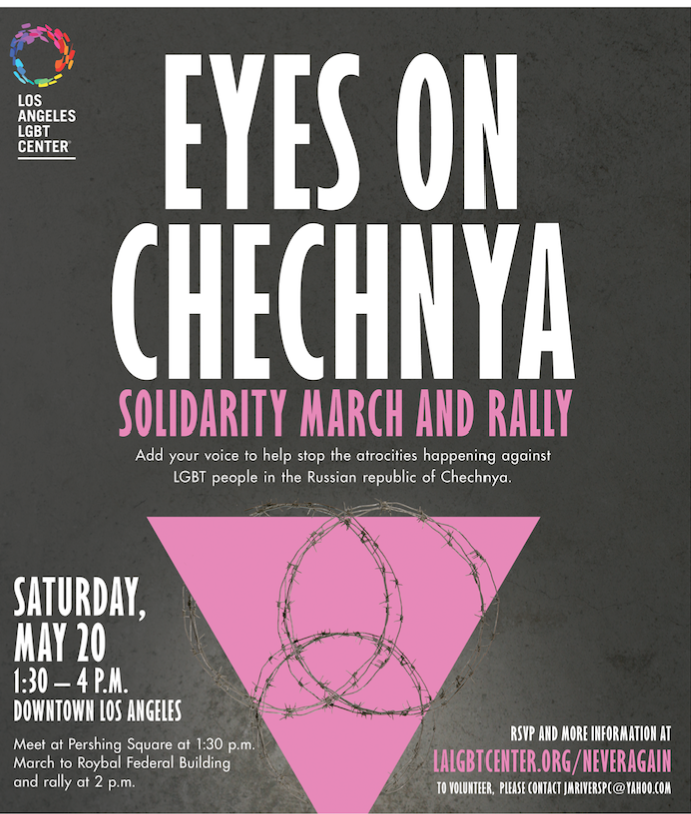 In an urgent effort to help stop the atrocities happening against LGBT people in the Russian republic of Chechnya—in which hundreds of gay men are reportedly being kidnapped and tortured in concentration camp-like facilities to 'purge' the country of homosexuality—the world's largest LGBT organization will participate in a solidarity march and rally on Saturday, May 20, beginning at 1:30 p.m.
The 'Eyes on Chechnya' march will commence at Pershing Square in downtown Los Angeles and conclude with a 2 p.m. rally at the Edward R. Roybal Federal Building and United States Courthouse (255 E. Temple St., Los Angeles, CA 90012).
The 'Eyes on Chechnya' march and rally is co-sponsored by Beth Chayim Chadashim; Friends of Project 10, Inc.; JQ International; Program for Torture Victims; and The World Congress of GLBT Jews.
Participants are encouraged to bring signs, LGBT Pride flags, and any other items to help bring awareness and show support to those being affected in Chechnya and other anti-LGBT countries.
Participants are encouraged to RSVP at lalgbtcenter.org/neveragain.