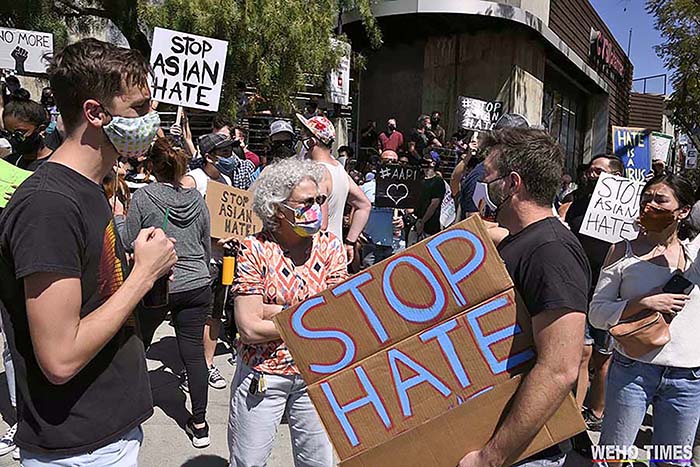 WEST HOLLYWOOD
DEMONSTRATORS JOIN NATIONWIDE CALL TO STOP ASIAN HATE 
Demonstrators gathered on all four corners of the Santa Monica Boulevard and La Cienega Boulevard intersection in West Hollywood at the end of last month for a nationwide call to Stop Asian Hate. The protest was a condemnation of the recent rise in hate crimes against people of Asian descent, including the recent attack of spas in the Atlanta metropolitan areas where a shooter left 8 dead—6 who were Asian women. "We're here to demand justice for Asian people, to raise awareness and we need people to respect our elders and stop attacking us," said Sinakhone Keodara. "We're human beings. We hurt too. We worry about our futures and about our families. It's cowardice when people attack our elders. We are here to show support."
LOS ANGELES
CENTER APPLAUDS DR. RACHEL LEVINE—FIRST TRANS PERSON CONFIRMED BY U.S. SENATE
The Los Angeles LGBT Center applauded the U.S. Senate confirmation of Dr. Rachel Levine as Assistant Health Secretary of the federal Department of Health and Human Services on March 24. The Center issued a statement congratulating Dr. Rachel Levine on becoming the first openly transgender person to be confirmed by the Senate. "The Center looks forward to working with Dr. Levine in her new role as Assistant Secretary of Health, and we are optimistic she can help bring desperately needed attention to the health needs of the transgender and broader LGBTQ community." 
LONG BEACH
AUTHORITIES INVESTIGATING THE BURNING OF RAINBOW LIFEGUARD TOWER
Authorities in Long Beach are investigating a fire that destroyed a beachside lifeguard tower that was painted in rainbow colors for LGBT Pride. The tower, located along the city's beach bike path near 12th Place, went up in flames sometime around midnight on March 23. LGBT-identifying members of the city's Marine Safety Division decked it out in rainbow colors last year to commemorate LGBT Pride Month. Long Beach Fire Department officials say it quickly became a popular meeting spot and photo opportunity for beachgoers. Community members gathered at the charred lifeguard tower in a moment solidarity with the LGBT community on Saturday, March 27th. Long Beach Mayor Robert Garcia said he believes it was an act of hate. 
 PALM SPRINGS
WHITE PARTY PALM SPRINGS POSTPONED UNTIL SEPTEMBER
White Party founder Jeffrey Sanker announced on his website that White Party Palm Springs set for April has been postponed due to the COVID-19 pandemic. The event will now take place September 17-20 and will be called White Party Palm Springs Solstice—A New Beginning. According to reports the event will return to the Hilton Palm Springs and more information will be released soon. 
SAN DIEGO
THREE DADS AND A BABY MAKE A MOVIE
The movie Three Dads and a Baby was released last month chronicling the life of three gay men in San Diego who decide to begin a family and adopt a baby. Dr Ian Jenkins, a doctor and the author, Jeremy Hodges, a zoo-keeper, and Dr Alan Mayfield, a psychiatrist, regard themselves as just your average, ordinary throuple. They have two children, daughter Piper, aged 3, and son Parker, aged 1. The ground-breaking feature of the domestic arrangements of these men is that Piper and Parker have three dads on their birth certificates and no mom. According to San Diego County News the precedent paves the way for the future children of other polyamorous parents.