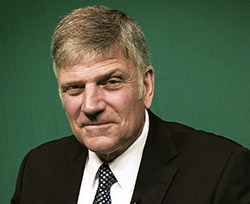 Franklin Graham
The evangelical evangelist and missionary Franklin Graham was outraged – yes, just outraged – to hear that Joe Biden has lifted Trump's ban on LGBT+ flags being flown at US embassies, reports Pink News.
Secretary of state Antony Blinken announced last week  that all US diplomatic outposts would be authorized to fly the Pride flag, overturning a Trump-era ban just in time for Pride month.
The happy news was celebrated by LGBT+ advocates around the world, but it spelled sheer doom for Franklin Graham, who urged his followers to pray for America.
Additionally  77-year-old right-wing pundit Newt Gingrich launched into an angry rant on Fox News' Justice with Judge Jeanine, saying that "attacking people of traditional values who are appalled that this administration would fly the gay flag at American embassies all over the world."
READ MORE HERE:
Pathetic Franklin Graham whines as Biden lifts Trump ban on LGBT+ flags at US embassies