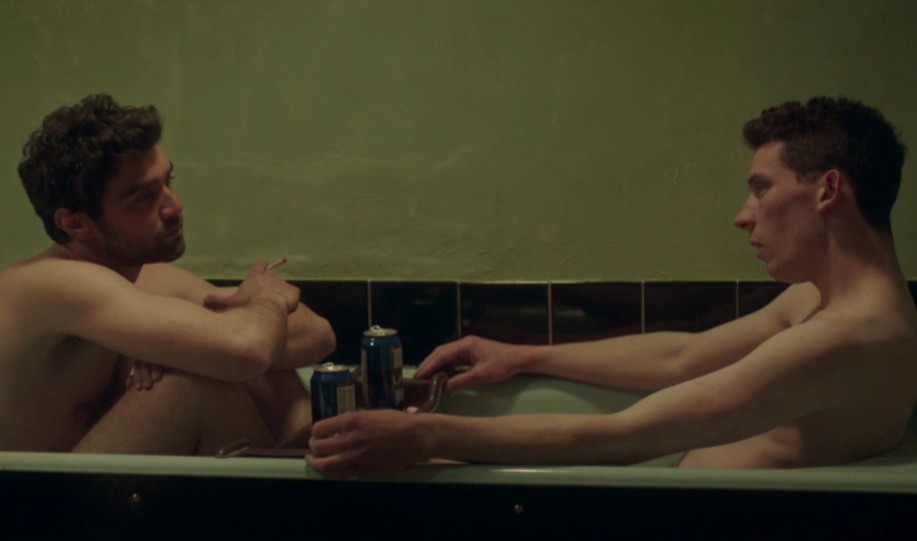 ( Josh O'Connor, Alec Secareanu, "God's Own Country")
As most theatres, clubs and restaurants will be closed this Valentine's weekend, the number one authority on male celebrity nudity is encouraging its members to stay home and make it a Netflix and Chill kind of holiday. 
In their latest top ten, Netflix and Chill: Movies for Valentine's Day, Mr. Man reveals the best gay movies that are sure to ignite the passion this Valentine's Day.  The list combines major blockbusters like Brokeback Mountain and Call Me by Your Name with lesser-known titles including the steamy God's Own Country starring Josh O'Connor, best known for playing Prince Charles on TV's The Crown.  Find the full list of Netflix and Chill: Movies for Valentine's Day at https://www.mrman.com/top10-netflix-and-chill. 
"We're calling it Netflix and Chill but our Valentine's list isn't exclusive to Netflix," Mr. Man's Phil Henricks clarifies.   "It includes the best romantic films from all the popular streaming services."
In fact, the only Netflix flick on the list is A Single Man, the 2009 drama film starring Colin Firth as a depressed university professor living in Southern California in 1962.  Directed by fashion designer Tom Ford, the film includes a seductive scene between Firth and About a Boy's Nicholas Hoult.
God's Own Country, Call Me by Your Name and the German film Free Fall, about a romance that develops between the two police officers, are all available on Hulu.
The Skinny, about a group of friends that gather in New York City for a reunion that leads to something torrid, can be found on Amazon, as can Boy Culture, a film about a male escort and his tangled romantic relationships.
For those who enjoy romantic Brit-flicks, they can head over to Google Play to check out Weekend, about two men begin a sexual relationship the weekend before one of them leaves the country; Maurice, a Merchant Ivory tale of gay love in the restrictive and repressed culture of Edwardian England (It stars a young Hugh Grant!); and the film that Mr. Man ranks as the #1 romantic gay film, Beautiful Thing.
In Beautiful Thing, teenage Jamie is infatuated with his classmate, Ste, who slowly accepts Jamie's love.  Set in the working-class area of South East London, the film's beauty is brilliantly enhanced by the music of The Mamas & the Papas and "Mama" Cass Elliot.  Beautiful Thing is available for streaming on Amazon, too.
Mr. Man is an adult entertainment website and database of male nude and sexually explicit scenes from mainstream movies and TV.  It launched in 2013, 14 years after its parent site, Mr. Skin.  Its collection includes more than 8,000 stars, 90,000 photos and video clips and a vast selection of curated films and TV shows in full HD video. 
Find the full list of Mr. Man's Netflix and Chill: Movies for Valentine's Day at https://www.mrman.com/top10-netflix-and-chill. Follow Mr. Man on Twitter @mrman.