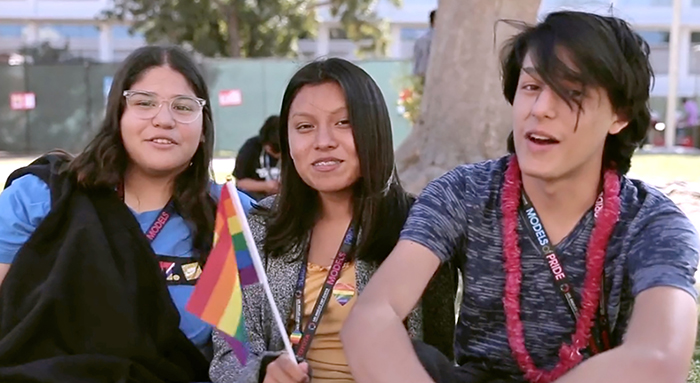 FRIDAY, NOVEMBER 6
PALM SPRINGS PRIDE WEEK
Various locations. Info: visit www.pspride.org Pride Week is November 6-8 in Palm Springs and the Palm Springs Pride organization is encouraging the community to come together in solidarity, in the spirit of activism, and to demonstrate resilience under the theme Exist. Resist. Persist. A combination of social distance, in-person, and virtual programs will be featured.
TUESDAY, NOVEMBER 10
LOS ANGELES LESBIAN VIRTUAL SPEED DATING, 7PM-9PM
www.mycheekygaydate.com The perfect opportunity to find a virtual companion! Ages 22-44.
SATURDAY, NOVEMBER 14
MODELS OF PRIDE
Through November 15. Info: www.modelsofpride.org. The 28th annual Models of Pride conference is the largest FREEconference for LGBTQ youth & allies 12-24, as well as parents & professionals.
SUNDAY, NOVEMBER 15
MARCH 9:30PM
Los Angeles LGBT Center's Anita May Rosenstein Campus Garage, 1118 N. McCadden Place, Los Angeles. Info: www.lalgbtcenter.org/theatre. Conceived and directed by Jon Lawrence Rivera, Produced by Jon imparato, MARCH is the first production for the Los Angeles LGBT Center's new Garage Theatre series, combining the intimacy of live theatre with the safety of a drive-in movie.
MONDAY, NOVEMBER 16
LOS ANGELES GAY MEN SPEED DATING, 8PM-10PM
Bon Vivant Market & Café, 3155 Glendale Blvd, Los Angeles, CA. www.mycheekygaydate.com. An even that offers a fresh alternative to speed dating and matchmaking.
SATURDAY, DECEMBER 5
GAY—CENTERED INNER WORK CLUB 7PM-9PM
Plummer Park, 7377 Santa Monica Blvd, West Hollywood. An ALTERNATIVE gay space for those interested in community-building and planetary healing through personal psychological liberation.