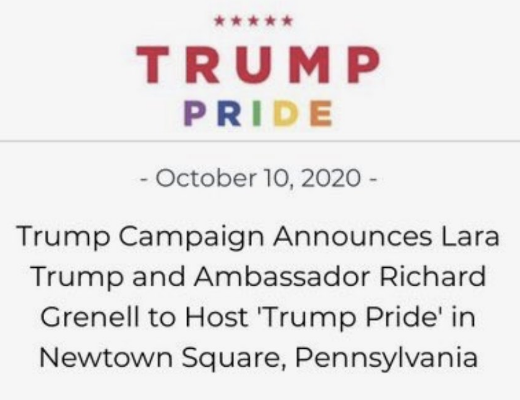 The Trump campaign continues their attempt to woo LGBTQ voters by announcing it will hold a "Trump Pride" rally in Pennsylvania on Tuesday, October 13, reports LGBTQ Nation.
But according to a copy of the invite shared on Twitter, neither the words "gay" nor "LGBTQ" appears in the announcement.
Lara Trump and former ambassador to Germany Richard Grenell will host the event according to an announcement shared by Michelangelo Signorile.
"Look at this closeted event," Signorile tweeted with the screenshot, "in which neither 'gay' nor 'LGBTQ' is mentioned, Trump himself is not involved, and the whole thing is in code: 'Pride' in rainbow letters."
"They've not announced this anywhere, lest the religious right find out," he continued. "Meanwhile, they're trying to put a woman on the Supreme Court who will destroy marriage equality."
READ MORE HERE:
https://www.lgbtqnation.com/2020/10/trump-campaign-will-hold-closeted-lgbtq-pride-rally-pennsylvania-tomorrow/