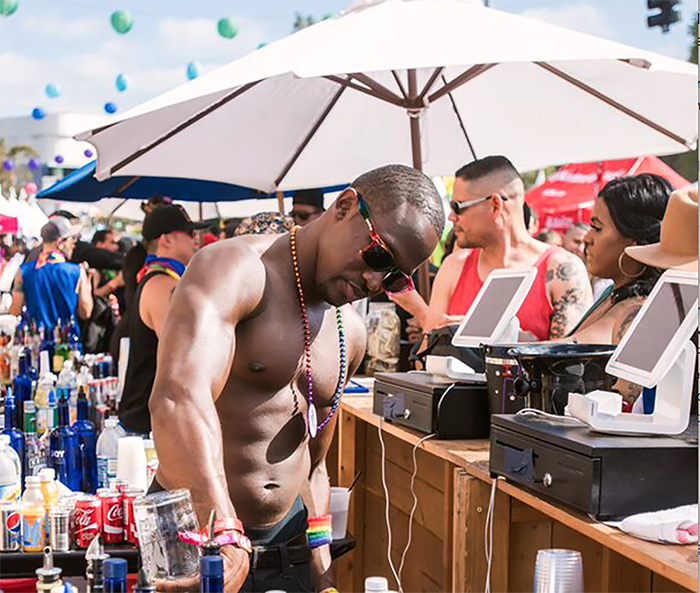 WEST HOLLYWOOD
LA PRIDE IS LEAVING WEST HOLLYWOOD
Christopher Street West (CSW) the non-profit organization that produces and organizes the LA Pride parade and festival in the City of West Hollywood sent a letter of intent to move the LA Pride events out of the City of West Hollywood. The CSW Board of Directors cites construction at West Hollywood Park and the changing demographics of the Greater Los Angeles Area among the reasons LA Pride will no longer take place in West Hollywood. The letter does not say where CSW intends to host LA Pride next year. The City of West Hollywood is reaching out to the community to get feedback on hosting their WeHo Pride event.
PALM SPRINGS
GAY PUNK SINGER KENT JAMES HAS DIED
Kent James, frontman of the punk-influenced rock band Nick Name, died at his home in Palm Springs last month. Cause of death has not been disclosed. James is known for singing openly about his sexuality. He had a gay following who loved his masculine rock persona. 
GAY MEN'S CHORUS LAUNCHES "CHORUS CARES"
Palm Springs Gay Men's Chorus has launched a program initiative in the Coachella Valley called "Chorus Cares," a drive to help two elementary schools gather supplies during COVID-19. The supplies will be needed for the 2020-2021 school year, regardless of whether school opens in person or online. Donors can purchase supplies online at smile.amazon.com and designate the Palm Springs Gay Men's Chorus, a 501(c)(3), as the recipient; supplies can then be sent to PSGMC, 49 Camino Real, Rancho Mirage, CA 92270.
SAN DIEGO
LGBT STUDENTS MARCH AGAINST POLICE BRUTALITY
Students from San Diego City College led a group of about 100 people on a short march through Hillcrest during the closing of Pride weekend. The march was a call for justice for victims of police brutality and racist violence. 
LONG BEACH
PETITION TO RECALL FIRST GAY MAYOR
LB Strong, a community group led Franklin Sims, has initiated a campaign to recall Robert Garcia from office. The petition says that Garcia advanced his political career at the expense of Long Beach's most vulnerable residents in exchange for substantial contributions from a powerful police lobby. Garcia is also being called out for failing to discipline police brutality. In his official response to the petition, Garcia cited multiple city accomplishments since he was first elected in 2014, including building more affordable housing; reducing police shootings and use of force; and receiving a perfect score from the Human Rights Campaign for LGBTQ inclusion.
ORANGE COUNTY
WINDOWS SMASHED AT MAIN STREET BAR & CABARET
The Laguna Beach Police Department is investigating an attempt to torch down the historic Main Street Bar & Cabaret. On Wednesday, July 22, police were notified that several bottles filled with what appeared to be an accelerant were thrown into the popular, longtime gay establishment on South Coast Highway. The bottles had wicks on them, but failed to incinerate the alleged flammable liquid. Seven windows were smashed. The bar, known for its drag shows, has recently undergone renovations and is trying to reinvent itself to appeal to a more mainstream diverse crowd. n