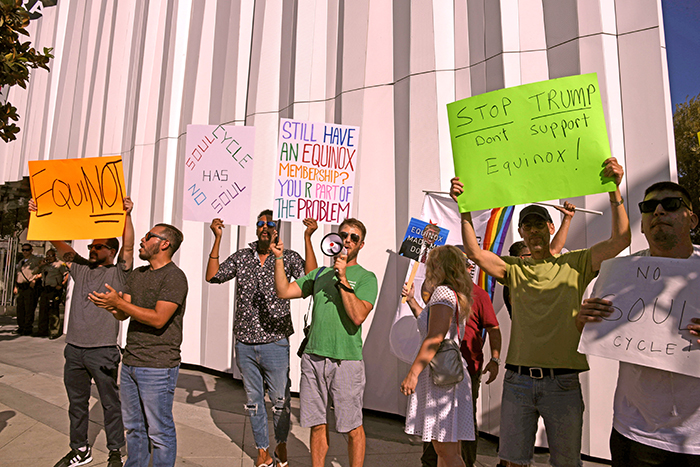 WEST HOLLYWOOD
PROTEST AT EQUINOX DUE TO TRUMP FUNDRAISER
West Hollywood activists brought an anti-Trump demonstration to the front doors of Equinox and Soul Cycle in West Hollywood last month. The protest was in response to Equinox and Soul Cycle owner Stephen Ross hosting a top dollar fundraiser to benefit the re-election of Donald Trump. Over 50 demonstrators showed up with rainbow flags and anti-Trump signage outside of 8590 Sunset Boulevard. The protest encouraged gym patrons to cancel their memberships and discourage Ross and others from supporting Trump's re-election.
PALM SPRINGS
MAN SHOT AFTER PULLING KNIFE, YELLING ANTI-GAY SLURS 
A man was shot by police after he entered a barbershop in Palm Springs, last month, shouted anti-gay and racial slurs, and then pulled out a knife on customers and staff. The Desert Sun reports the people inside the shop managed to call the police and get the knife-wielding man outside. When officers arrived, the suspect continued shouting, with knife in hand. He was shot by a police officer outside the shop. He suffered non-life-threatening injuries. An officer was also taken to a hospital with moderate injuries.
ORANGE COUNTY
QUEER EXHIBIT FOCUSES ON THE OC'S LGBTQ HISTORY
Langson Library at UC Irvine is currently featuring a new exhibit on Orange County's LGBTQ. "Queering the Orange," curated by the UCI Libraries Diversity Team. The exhibit focuses on the history of the county's lesbian, gay, bisexual, transgender and queer residents. It tells the story of how they found each other before the internet and their fight for countywide and on-campus rights. It includes items dating from last century to as recently as last year in a collection of photos and queer literature about sexual and gender identity. Materials for the exhibit were donated by the OC Historical LGBT Timeline Project, private collections and the LGBT Center OC, which is based in Santa Ana. The exhibit will be displayed on the fifth floor of the Langson Library through October.
SAN DIEGO
GAY SAN DIEGO NEWSPAPER UP FOR SALE
David Mannis, the owner of LGBTQ publication Gay San Diego, is retiring from publishing and selling the bi-weekly newspaper after operating for almost 10 years. Mannis sold five local community newspapers to his ex-wife and was planning to keep Gay San Diego Times. He changed his mind after getting a taste of retirement and is now looking for buyers. Times of San Diego reports that Mannis is looking for a buyer who has an interest in providing a voice for the LGBTQ community and is not just an investor looking for a profit. Gay San Diego was founded in 2010 and has distribution of 10,000 printed copies. It prints every other Friday.
LOS ANGELES
BILL MCDERMOTT LEAVES LA LGBT CENTER FOR GLAAD
Bill McDermott, who has served as Chief Development Officer at the Los Angeles LGBT Center for the past eight years, is transitioning to the position of Chief Development Officer for GLAAD. McDermott will sit on GLAAD's senior leadership team and work on the organization's advocacy work and fundraising efforts such as membership, major donor, foundation grants and its corporate partnership program. He will also oversee GLAAD's special events team which produces the annual GLAAD Media Awards. In his new position, McDermott will also lead the development and fundraising efforts for the GLAAD Media Institute, which launched in 2018. He begins his work with GLAAD in the fall.