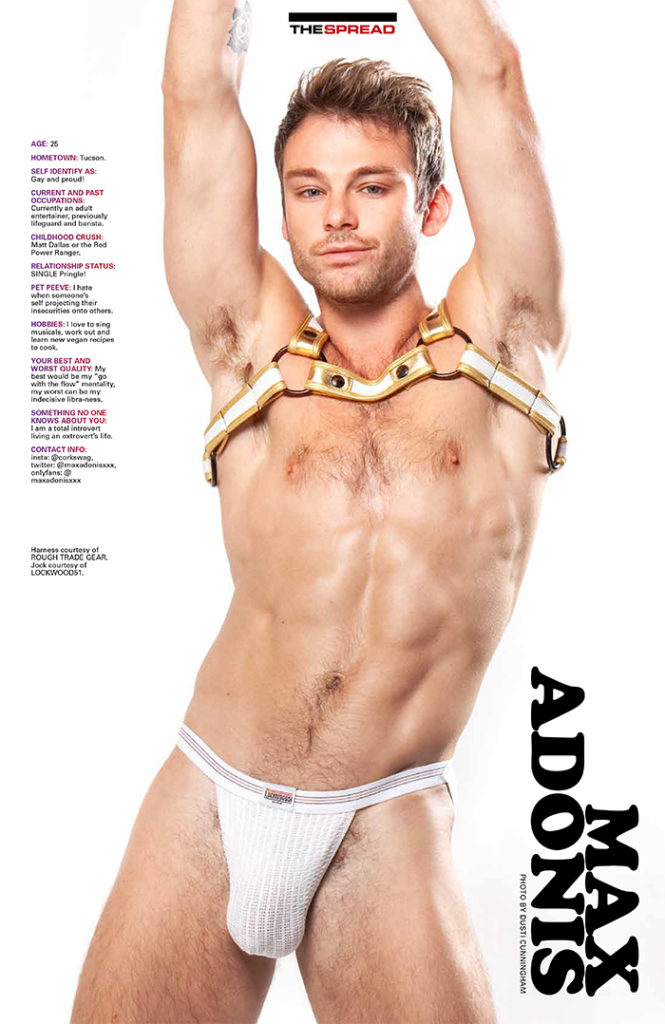 Max Adonis

PHOTO BY DUSTI CUNNINGHAM
AGE: 25
HOMETOWN: Tucson.
SELF IDENTIFY AS: Gay and proud!
CURRENT AND PAST OCCUPATIONS: Currently an adult entertainer, previously lifeguard and barista.
CHILDHOOD CRUSH: Matt Dallas or the Red Power Ranger.
RELATIONSHIP STATUS: SINGLE Pringle!
PET PEEVE: I hate when someone's self projecting their insecurities onto others.
HOBBIES: I love to sing musicals, work out and learn new vegan recipes to cook.
YOUR BEST AND WORST QUALITY: My best would be my "go with the flow" mentality, my worst can be my indecisive libra-ness.
SOMETHING NO ONE KNOWS ABOUT YOU: I am a total introvert living an extrovert's life.
CONTACT INFO: insta: @corkswag, twitter: @maxadonisxxx, onlyfans: @maxadonisxxx
---
Harness courtesy of ROUGH TRADE GEAR.
Jock courtesy of LOCKWOOD51.