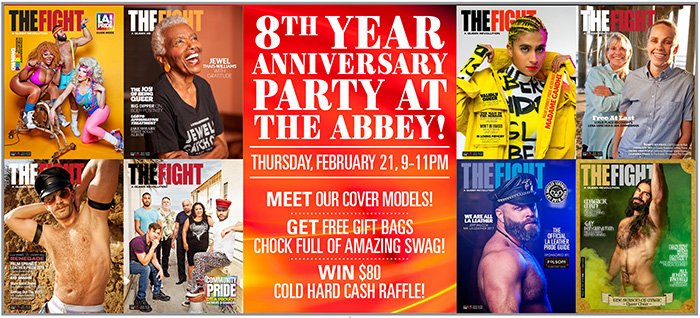 THURSDAY, FEBRUARY 7
INTERNATIONAL BEAR CONVERGENCE 2019—IBC
Hard Rock Hotel Palm Springs, 150 South Indian Canyon Drive.Tickets & Info: www.ibc-ps.com. Runs through Monday, February 11. The International Bear Convergence (IBC) – the premier event for Bears and Admirers.
3 GIRLS 1 BAR 9PM-2AM
Redline Gay Bar DTLA, 131 E 6th St, Los Angeles. The New Night everyone has been waiting for! Where you can dance, drink the night away & watch these girls werk the bar. Hosted by Alana Wolfe, Amber Crane, Rainy Dayz with our special guests Miss Nayla Muse and Miss Nubia E. BonBoom.
FRIDAY, FEBRUARY 8
MR. EAGLE562 LEATHER 2019 CONTEST WEEKEND!
Eagle 562, 2020 E Artesia Blvd, Long Beach, CA 90805. Come celebrate a fun leather weekend and find out who will take home the titles of Mr. Eagle562 Leather. Info: www.eagle562.com.
HIR BY TAYLOR MAC 8PM–10PM
Odyssey Theatre Ensemble, 2055 S Sepulveda Blvd, Los Angeles, 90025. Info: www.odysseytheatre.com. An uproarious, dark comedy by queer artist Taylor Mac that centers on asemi-mad housewife with a transgender teenage child, another son reeling from three years in combat in Afghanistan, and a husband whose disabling stroke has rendered him nearly speechless. 
Saturday, February 9
DILF PALM SPRINGS "BFD" DADDY 8PM–2AM
The Barracks, 67625 E Palm Canyon Dr, Ste C7, Cathedral City, 92234-5462. A Joe Whitaker & the DILF party. "The Hottest "Daddy Jock Party" in the country is coming back to Palm Springs and exclusively to the Barracks Bar! "
TWLMP & SCUM COLLAB-QUEER CUPID PARTY VALENTINE'S DAY 7PM–10PM
The Wall Las Memorias, 5619 Monte Vista St, Los Angeles, CA 90042. DJs Rudy Bleu y Hex-Ray. Hosted by Vicky Jean Mochi and Adam Morello Reyes.
QUEERGIRL LOS ANGELES LAUNCH PARTY 9PM–2AM
Wood & Vine, 6280 Hollywood Blvd, Los Angeles, Ca 90028 "This event is geared toward queer women, but we are 100% inclusive of the entire LGBTQIA+ & heterosexual community." 
SATURDAY, FEBRUARY 16
BOY, A NIGHT TO CELEBRATE BOYS AND THE DADDIES WHO LOVE THEM 8PM–1AM
Eagle562, 2020 E Artesia Blvd, Long Beach, CA 90805. More info: www.eagle562.com.
SATURDAY, FEBRUARY 16
MEAT RACK—EAGLE LA 8PM–2AM
Eagle LA, 4219 Santa Monica Blvd, Los Angeles, 90029. John Piampiano and Hunter Fox present: MEAT RACK and it's loaded with protein!
WEDNESDAY, FEBRUARY 20
ALLEE WILLIS WITH BETH LAPIDES 7PM–9PM
WeHo Arts, 625 N San Vicente Blvd, West Hollywood, 90069. A very special evening of music, mogo and magic!
SUNDAY, FEBRUARY 24
CUTE AF INTERGENERATIONAL SOCIAL! 12PM–3PM
Cuties Coffee, 710 N. Heliotrope Dr, Los Angeles, 90029. "At Cuties we believe that intergenerational spaces are important and necessary for a healthy LGBTQIA+ community. In our effort to bring elders, youth and folx of all ages together we're planning a cute af intergenerational meetup."
WEDNESDAY, FEBRUARY 27
ENCUERADO LATIN LEATHER NIGHT—EAGLE LA 9PM–2AM
Eagle LA, 4219 Santa Monica Blvd, Los Angeles, 90029. Every 4th Wednesday! Leather Latin Night at your premium leather bar in LA—THE EAGLE!
THURSDAY, FEBRUARY 28
HUMP! FILM FESTIVAL 2019—LOS ANGELES 8PM
Downtown Independent, 251 S. Main Street, Los Angeles, CA 90012. More info: www.downtownindependent.comThe festival features short dirty movies—each less than five minutes—all created by people who aren't porn stars but want to be one for a weekend. The filmmakers and stars show us what they think is hot and sexy, creative and kinky, their ultimate turn-ons and their craziest fantasies.