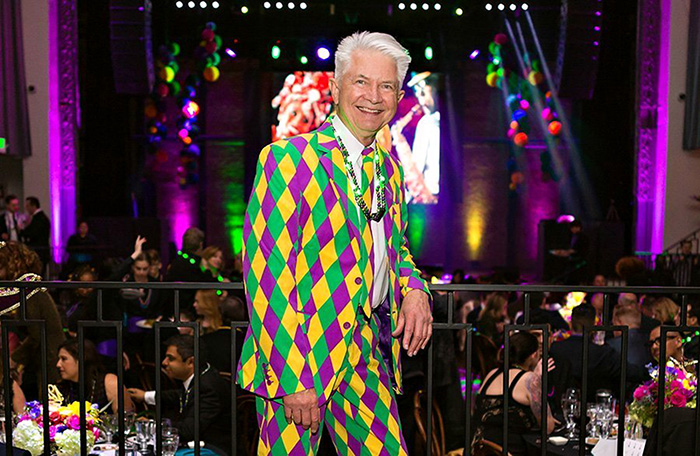 ORANGE COUNTY
RADIANT HEALTH CENTERS HOST 35TH ANNUAL RADIANT ROYAL GALA 
Radiant Health Centers hosted their 35th annual Radiant Royal Gala last month at the Yost Theater in Santa Ana.
The non-profit fundraiser celebrated the golden age of Las Vegas from the 1950s and 1960s.
Poverty, stigma, cultural misunderstandings and other health barriers have led to heightened health risks in Orange County's vulnerable LGBTQ+ population. HIV is just one of the most visible of those health inequities.
The Radiant Royale gala raises funds for Radiant Health Centers' services for the LGBTQ+ community, and for the men, women and children living with HIV in Orange County. All proceeds go directly to their clients.
For more info visit: www.radianthealthcenters.org.
---
LOS ANGELES
LA LGBT CENTER OFFERS LGBT HISTORY LESSON PLANS
The Los Angeles LGBT Center has published online LGBT history lesson plans for teachers to use as a resource tool at no cost. The plans comply with the 2011 FAIR Education Act, which requires all California K-12 schools to integrate age appropriate, factual information about the roles and positive contributions of LGBT Americans and people with disabilities into their social studies and history classes.
The "Out for Safe Schools" lesson plans include vintage photos and archived media reports. They showcase a wide spectrum of topics, events, and individuals considered to be vital in LGBT history, such as civil rights activists Audre Lorde, Harvey Milk, and Bayard Rustin; the Black Cat Tavern Riots; the AIDS crisis; and the concept of "coming out."
For more information about OUT for Safe Schools®, visit outforsafeschools.org.
---
WEST HOLLYWOOD
SHERIFF RESPONDS TO HOMOPHOBIC THREATS DIRECTED AT BLOCK PARTY WEHO
There was extra police presence at WeHo's Boystown area around the corner of Santa Monica Boulevard and San Vicente Boulevard last month, after Block Party WeHo received several homophobic and threatening phone calls during the Martin Luther King holiday.
According to Larry Block, the owner of Block Party WeHo, they received call after call that ranged from: "Is this a faggot store?" "You faggots are sinners;" "It's not okay to be a faggot;" "Watch out you faggot."
Block posted on his Facebook Timeline that he blocked each of the calls, which was followed by another call from a different number. Eventually he had to call the Sheriff's department out of fear for his safety and his staff.
---
CATHEDRAL CITY
MAYOR GRET PETTIS, CITY'S FIRST OPENLY GAY PUBLIC SERVANT, DIES AT 63
The Coachella Valley is mourning the loss of Cathedral City Mayor Greg Pettis, the city's longest-serving councilmember and the city's first openly gay public servant, who died from complications related to a 2018 gastric bypass surgery last month. Pettis was first elected in 1994. He passed away after spending two days in intensive care related to the surgery. He was 63.
Mayor Pro Tempore Mark Carnevale is next in line to take his place as mayor.
---
SAN DIEGO
BISHOP DENIES EXISTENCE OF GAY SUBCULTURE AMONG PRIESTS
San Diego Bishop Robert McElroy denies that a gay subculture exists among men studying to be Roman Catholic priests. In a January issue of The Southern Cross, McElroy said he agrees that such a subculture would be a "threat to a healthy Catholic community." He added that he has never witnessed the presence of such a subculture in his three years as Bishop in San Diego.
McElroy's report is in response to concerns raised at eight listening sessions last October and November throughout the diocese on the heels of continuing revelations about clergy sexual abuse.