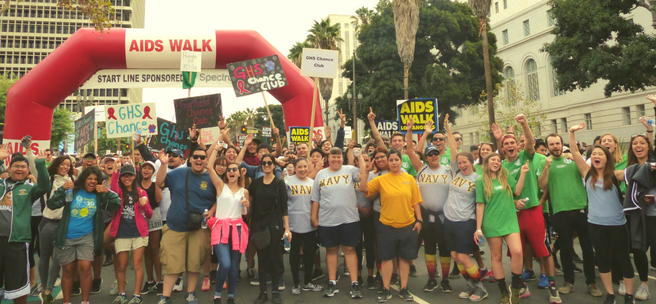 Over 10,000 participants joined City of Los Angeles Mayor Eric Garcetti, Supervisor Hilda Solis, Peter Gallagher, Pauley Perrette, Estelle, and more at the new AIDS Walk Los Angeles home in Grand Park, where over $2 Million were raised for APLA Health services and other area organizations. 
Thousands of participants filled the streets of Downtown Los Angeles for the benefit of people living with and affected by HIV/AIDS on October 23, 2016. Participants gathered in and around Grand Park for an opening ceremony, which included celebrities and elected officials.
Actor Peter Gallagher of Law & Order: SVU, made some welcoming statements and ABC7 news Anchor Ellen Leyva addressed the crowd at the beginning of the walk. Other celebrities included: Pauley Perrette (NCIS), Jenna Ortega (Jane the Virgin), Stephanie Corneliussen (Mr. Robot), Bebe Wood (The Real O'Neals), and Mary Hollis Inboden (The Real O'Neals). India Carney of The Voice lent her vocals when she sang her hit song, "Glory," and singer Estelle gave a stirring perfomrance of "Conqueror." And the walkers were off for a great cause.
ABC7 returned as AIDS Walk Los Angeles' television broadcast sponsor, and aired AIDS Walk PSAs.
"The crowd loved the new location, and we loved the crowd," Craig R. Miller, the event's founder and senior organizer, said of the new home at Grand Park. "The participants were clearly energized by the versatile new venue and all we were able to do with it. AIDS Walk Los Angeles has long been one of the Southland's most widely embraced charitable events. At Grand Park, it has risen to the level of a major cultural event as well."
"We are incredibly thankful for everyone who registered, raised funds, participated in, and supported AIDS Walk Los Angeles today," APLA Health Chief Executive Officer Craig E. Thompson said. "The funds raised through AIDS Walk allow us to provide the most critically needed services for people living with HIV and AIDS, such as housing support, health care, and groceries from our countywide food pantry network. They also ensure we can deliver quality medical, dental, and mental health care—as well as HIV testing, STD screening, and HIV prevention tools such as PrEP—to thousands of low-income individuals every year. This combination of comprehensive care for all and support services for those living with HIV will help us end the epidemic."
This year the 10K route showcased architectural and cultural landmarks like the Walt Disney Concert Hall, The Broad Museum, and the Music Center.
RuPaul's Drag Race stars like Michelle Visage, Delta Work, LaGanja Estranja, Latrice Royal, Cynthia Lee Fontaine, and Morgan McMichaels were the Downtown Divas of Drag at the Post-Walk festivities, which took place at the Splash Fountain and Performance Lawn of the park featuring music, dancing, food trucks, and a show. Walkers were also invited to partake in Los Angeles food truck favorites Palazzolotruck, Gourmet Genie, Slammin Sliders, and Tainamite. A portion of food truck proceeds went to AIDS Walk Los Angeles.
Since the first walk in 1985, walkers have raised funds totaling more than $84 million for APLA Health, which provides food, housing support, benefits counseling, and much more for people living with and affected by HIV/AIDS, as well as primary medical, dental, and mental health care and HIV prevention services focused on the low-income LGBT and other underserved communities.
Mayor Eric Garcetti thanked the walkers for their part in ending the HIV/AIDS epidemic. "When we walk, we show who we are," he said. "We believe that an AIDS-free generation is within our reach. Each step you take saves a life and we thank you."
For more information, visit: la.aidswalk.net.