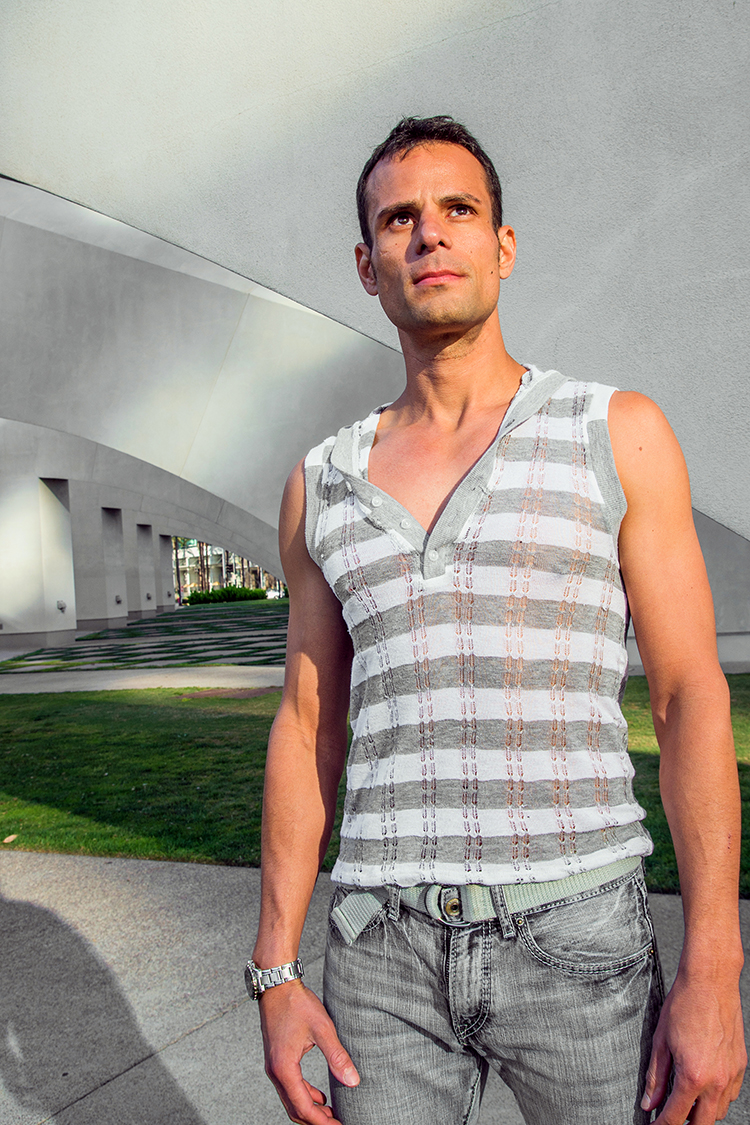 Will Walters
One proud gay man finally gets his day in court. Will Walters vs. the city of San Diego.
BY PAULO MURILLO
Will Walters had the worst gay pride ever in 2011. He was allegedly cited, manhandled, detained, humiliated, and arrested for public nudity inside the San Diego Pride festival grounds after he stepped out in a revealing outfit that SD Police Department deemed obscene. On December 5, he will finally have his day in court after five years of litigation.
"I knew right away that my rights had been violated… I knew it when I was put in jail, when I was made to stand in front of people like a circus animal…"
Walters—who identifies as a member of the leather community—stepped into the San Diego Pride festival clad in a dog collar, leather harness and a custom-made leather kilt with the sides cut out and flaps covering his crotch and backside over his thong underwear—a modest number he thought, compared to the getups one encounters at a beach in San Diego where women frolic in barely-there spaghetti thongs with a tiny triangle patch that leaves nothing to the imagination, and face no harassment from police.
"I had actually gotten this outfit two years prior," he said of the infamous kilt – during an interview with THE FIGHT. "I wore it to Gay Pride in West Hollywood. Nothing happened. That same year I came to San Diego and nothing happened. People took my picture. I got a lot of attention. It was the year after that, when I decided to wear the same thing again, that I got arrested."
"I knew right away that my rights had been violated," he said. "I knew it when I was put in jail, when I was made to stand in front of people like a circus animal, but I didn't know to what extent."
LEFT WITH NO CHOICE
In the beginning, all Walters wanted was an apology. He got one from the San Diego County Sheriff's Department, but five years in, the city of San Diego maintains that there was no wrongdoing on behalf of SDPD. Walters says he was left with no choice but to proceed with a claim for the violation of his equal protection rights.
"When people say you can't fight city hall, it's true, because all they're going to do is delay, delay, delay," he said of the five years he's waited for a trial. "They're going to run you out of money, or they're going to ruin your reputation. Both are very true. There have been some horrible things said about me. It's been difficult for me to get a job, because I now have an arrest on my record and there is no contingency in my lawsuit. Everything has been out of pocket. I'm in debt."
CAN HAPPEN AGAIN
Despite his legal hardships, Walters managed to persevere these past five years by becoming an activist. He marched with a youth group at Michael Brown's funeral in Ferguson, he's conducted speaking engagements, and today he puts most of his energies into Free Will USA (freewillusa.com), a gay organization he founded that is open to everyone with a mission to educate all Americans about our constitutional rights, regardless of sex, age, race, creed, sexual orientation, or gender identity.
He still believes what happened to him in 2011 can happen again. "San Diego is on the wrong side of history," he said. "It's been five years. Since then, we've done away with Don't Ask, Don't Tell, we now have gay marriage. The gay community has come up. I'm hoping the result of all of this is that there is police reform and that police departments in every major municipality can get education on sensitivity training and what different communities practice and how they celebrate pride."
When asked if he'd wear that leather kilt to pride again, he instantly answered: "Absolutely. There was nothing wrong with it. Of course, I was 29 then and now I'm 35… but I don't think there is any problem with people wearing whatever they want, especially during gay pride. That's our day to be happy and free and to celebrate our gayness."