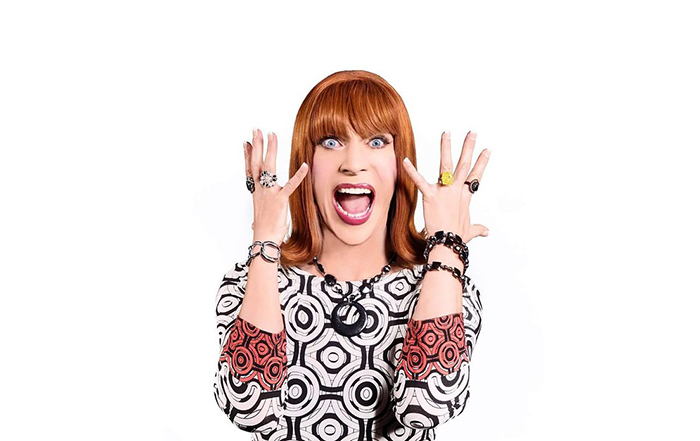 By Paulo Murillo –
SAVE THE DATE!!!
The Los Angeles LGBT Center's Lily Tomlin/Jane Wagner Cultural Arts Center announced the return of legendary Miss Coco Peru to the Reinberg Theatre stage with limited performances of her show, A Gentle Reminder: Miss Coco Peru's Guide to a Somewhat Happy Life on Fridays and Saturdays, May 13-14 and May 20-21, scheduled to start at 8pm.
What is the secret to a somewhat happy life? It's a question that comes up a lot for Miss Coco Peru, since she became a YouTube sensation and role model for young girls. To enlightened those less happy, Coco penned a new show where– through story and song–she shares with her audience a step-by-step guide to creating your very own somewhat happy life. Why just a "somewhat" happy life, you ask? According to Coco, you wouldn't want to be completely, totally and utterly happy, because happy people make such a racket.
Miss Coco Peru was conceived by actor, comedian, and drag performer Clinton Leupp, and is now known for various film and TV roles as well as live theatre performances. Films include the 1999 Indi film Trick and the hilarious cult classic Girls Will Be Girls. She has also appeared in various one-woman shows that span for a good 20 years—not that anyone is counting.
General admission tickets for A Gentle Reminder: Miss Coco Peru's Guide to a Somewhat Happy Life are $25 and may be purchased online at www.lalgbtcenter.org/theatre or by phone at (323) 860-7300. Proceeds from ticket sales will support a range of free and low-cost programs and services offered by the Los Angeles LGBT Center.
The Los Angeles LGBT Center's Renberg Theatre is located at 1125 N. McCadden Place (one block east of Highland, just north of Santa Monica Boulevard), in Hollywood, 90038. Free onsite parking is available.