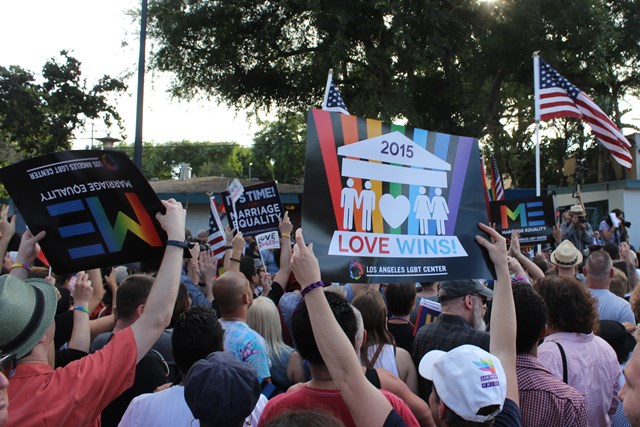 Photos & Text by Paulo Murillo
Hundreds of LGBT people and their allies joined dozens of human rights organizations for a Decision Day Rally in West Hollywood Park at 6 p.m. June 26, to celebrate the U.S. Supreme Court's historical ruling on same-sex marriage.
Lady Gaga's "Born This Way" played over a crowd of people holding rainbow flags and signage that read "Love Wins," "Love Conquers Hate" and "A Supreme Day to Be Gay in the USA."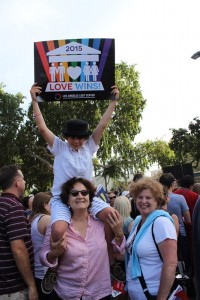 Los Angeles LGBT Center CEO Lorri L. Jean, was the first to speak. She rejoiced at how the U.S. Constitution finally includes LGBTQ people.
"As the confederate flag is falling, the rainbow flag is raising," she said. "If God is with someone, she is with us."
Tamika Butler, of the National Center for Lesbian Rights told the crowd that the fight continues for civil rights. West Hollywood council member John D'Amico locked lips with his husband Keith Rand who has been by his side for 23 years. And West Hollywood council member John Duran spoke of the AIDS crisis and how the price paid for this victory was high, but the victory is "so sweet."
The U.S. Supreme Court decision will require the 13 states that do not permit same-sex marriage to lift the ban for marriage equality. The United States joins 19 countries around the world where same sex is now legal.