By Paulo Murillo
Mr. LA Leather Patrick Smith wins International Mr. Leather 2015. "I believe title holders should do something for their community. For me—it's the opportunity to have my voice heard on an international stage."
Patrick Smith, Mr. Los Angeles Leather 2015, was named International Mr. Leather 2015 at the 37th annual IML Competition in Chicago last month.
Smith's big win makes him the third LA Mr. Leather to bring the IML title home to Los Angeles after eight years (Mikel Gerle won in 2007 and Guy Baldwin in 1989).
Smith, who won the Mr. Los Angeles Leather 2015 title this past March, says that the "Mr. LA Leather contest does an incredible job preparing you for IML, because they are on a similar level in terms of production, value and intensity, so fortunately for me, it did feel very familiar."
In an interview with THE FIGHT the Canadian native and current Los Angeles resident discusses what the title means to him, how his mom is his biggest cheerleader and his plans for the future.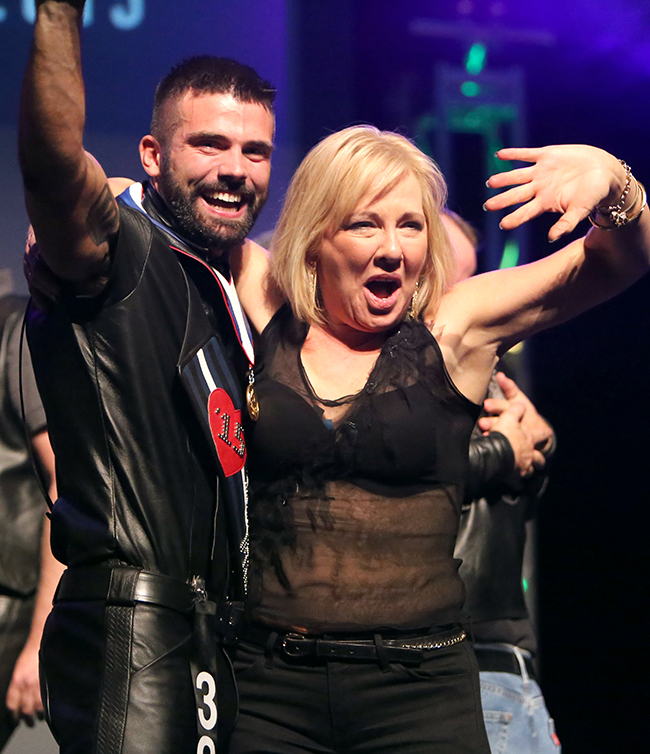 What was it like hearing your name being called as the IML winner?
I can't believe it, I'm still in shock! … You can never prepare for it. It's something that you imagine and hope will happen. I can't even put it into words—especially for an international title. It was completely surreal. I remember gasping and putting my hands over my mouth and I somehow managed to walk over and step up to that podium and the rest is just a blur.
Was there anything that you found particularly grueling about the competition?
I guess the most challenging part of the weekend was just overcoming your nerves… Everybody has that voice in their heads that makes you second-guess yourself sometimes, but you just have to do the best you can to keep on going. I really needed support and all the messages that I got—they powered me through and helped me shine on stage.
Did you end up taking your mom to IML?
Yes. She was a huge hit. I actually mentioned her in my speech. She was there in the audience cheering me on. I actually heard her voice while I was on stage and it was quite encouraging. Right after I won, they brought her up on to the podium and there's a picture of us on the podium together. She got to meet the judges and they just fell in love with her.
Was it uncomfortable at all having your mother at this type of competition?
You might think so, but not at all. She and I have been very close my entire life. She's my number one biggest supporter and I have no secrets from my mom. So no, it felt great. I think if I had to filter myself I don't think I would have won. You need to go up there and you need to expose yourself and bare your soul and I think the judges want to see you up there being yourself.
What does winning the title mean to you?
It comes with an enormous sense of honor… I believe title holders should do something for their community. For me—it's the opportunity to have my voice heard on an international stage. I plan on traveling the world. I plan on doing a lot of writing on gay issues that I'm passionate about. It's an enormous responsibility and I look forward to that.
Where do you go from here?
At the moment there are a few issues I want to tackle, such as the impact that censorship has had on a global level in our communities. Measure B [law requiring adult film actors to wear condoms] for example, is a form of censorship—it is censoring porn. In the UK they actually recently banned BDSM in porn, so basically it is actually illegal to show spanking in porn. That's censorship. If you want to take it to the worst extreme, look at somewhere like Russia where you can't even speak favorably about gay rights, or else you'll get thrown in jail. It's a huge problem. There is a lot of censorship that is affecting our community and I want to fight it all over the world.
Any final words to all the fans that supported you?
I can't reiterate enough that there are many people responsible for getting me here. I had an entire community behind me. The title doesn't belong to just me. It belongs to everybody who helped get me here. It was truly a group effort and I think the entire Los Angeles leather community should take pride in this because they all had something to do with it.